If you've been playing Mass Effect 2 on a standard definition TV, chances are you've been squinting to decipher the game's neon orange and green text. That's according to a 15-page thread on the game's official forums and noticed by Ars, anyway, claiming "the text is REALLY small" on even reasonably large SDTVs.
Standard definition TVs in the US run at 480i, or 720 horizontal x 480 vertical lines of resolution. If your SDTV supports 480p or what's sometimes called EDTV ('E' for 'Enhanced') that drops to 704 x 480 while benefitting from every scan line rendering consecutively in a single pass–the upside being a clearer picture during motion-intensive sequences, though it's of no benefit to static images like screens with lots of text.
High definition TVs run at much higher resolutions, starting at 1280 x 720 and running up to 1920 x 1080. While not always the case, it's generally true that text on HDTVs, which tend to be 30-inches or larger, is much more legible than on SDTVs. What's more, games designed for HDTVs often squeeze more text on-screen as well–drop them back to SDTV resolutions and the text can seem microscopic.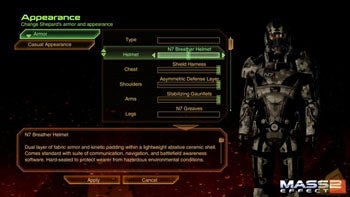 The original post on BioWare's Mass Effect forums reads as follows:
"I have a fairly big TV, and though it's not HD, the text should not be as small as it is…will there be a patch for bigger text in the near future? I can just barely read some of the text, and it's worse when there's a blue background…"
That's echoed in hundreds of replies (these next snipped from the first page alone):
"100% agree. I can barely make out what some of the words are, even on my friends HD TV it's nearly microscopic, very annoying. On ME1 I enjoyed reading about planets and so forth, now i nearly go blind from trying to read blurry small text on ME2. Not being able to read some of the choices during conversations is annoying too…. they got blue and yellow text (when highlighted) with a bright white or blue backgrounds on some angles. I would hate to imagine people with bad eyesight trying to read that stuff…."
And:
"I had to move my 360 into my room to play it on my computer monitor. I could barely read the mission information, the subtitles, anything."
And:
"I'm having the same issue! Ugh. I CANNOT STAND TINY TEXT. If BioWare had just put a dark grey box/whatever behind your conversation wheel, then it would be a hell of a lot easier on the eyes."
Question is, should BioWare do anything about it?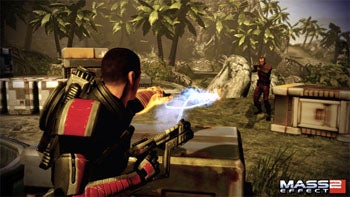 According to a November 2009 Knowledge Networks survey, 43 percent of people "watch HD programs every day," up from just 26 percent in 2007. That's a 65 percent increase in two years, significant enough to lead Knowledge Networks' president to note "This sends a message to advertisers that HD is becoming the new norm for those with HD access across all program types."
It's why I typed up that last part in a recent article critical of Nintendo's stance on HD with regard to Netflix's splashy arrival on the Wii.
As a user on the Mass Effect thread correctly pointed out, a recent report by Cable & Telecommunications Association for Marketing (CTAM) suggests HDTVs are in more than half of all US homes, and that seven in ten receive HD programming. The report claims the 'percent who own' an HDTV set leapt from 35 percent in 2008 to 53 percent in 2009. What's more, ownership of large screen TVs (32-inches or more) sits at 59 percent in 2009, up from 52 percent in 2007 and 44 percent in 2007.
BioWare forum moderator Michael Gamble eventually weighed in, writing:
"I've gotten a number of PMs about this. Messaging me more will not speed up the process. We are looking at the threads, but unless we necessarily have traction on it – we can't post information we dont have. I'll have to talk to Casey about this (as any way to address it would have far reaching changes in the game), but please don't expect any decisions or a fix in the near future (as we are supporting a number of issues at this time). This was a design choice, not a bug."
Poll time.
Connect with Matt on Twitter (@game_on)