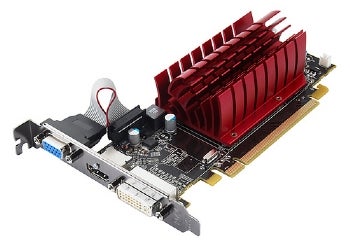 AMD announced its latest addition to the ATI Radeon HD 5000 series, the ATI Radeon HD 5450 graphics card. With a similar featureset as the HD 5800 series, this radical-looking card supports both DirectX 11 and OpenGL 3.2, and is geared toward casual gamers and home theater buffs.
With a clock speed of 650MHz, this card won't get too hot too fast. Some models are passively cooled while others have a low-speed fan, ensuring practically silent operation; this makes the RadeonHD 5450 perfect for situations where quiet fans are necessary, like a home theater setup.
In addition to being quiet, the HD 5450 consumes less than 20 watts while under a full processing load, so no external power connection is necessary.
If you do plan on using the HD 5450 in your home theater PC, you'll be happy to know that it includes support for HDMI 1.3a, as well as Dolby TrueHD and DTS-HD Master Audio.
The HD 5450 features ATI's Eyefinity multi-monitor technology: One card can drive three displays, making it easier to set up your PC with multiple monitors.
The best part? ATI has set the price at $60 for the HD 5450, so you can save your money for a slick set of monitors or building a quiet PC to control your home theater.
You can find more information about the RadeonHD 5450 on AMD's site.