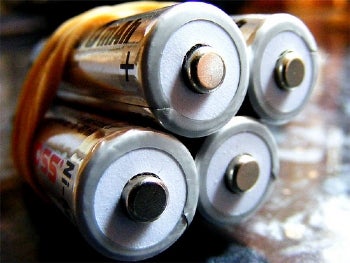 Japanese research and development firm Eamex claims to have found a new way to increase the typical average life of a high-capacity lithium-ion battery. Eamex's new technology will allow the demanding batteries to sustain over 10,000 recharges over the course of 20 years.
This rather dramatic increase in performance is made possible by new techniques such as a stabilization process of the battery's electrodes, which in-turn puts less stress on the battery's tin. This maintains the bonding of particles for a longer period of time and reduces the overall deterioration process. The result is a battery that lasts up to 10 times as long as most current batteries.
Lithium-ion batteries are broadly popular within various consumer electronics. They tend to hold their charge when not in use, and have a high energy-to-weight ratio. Current lithium-ion batteries can hold their charge for up to 1,000 charge cycles.

Eamex's technology is currently designed with heavy-duty batteries in mind, such as those used in electric vehicles. However, this technology should eventually find its way into smaller devices, such as cell phones, laptops, and MP3 players.
The advantages beyond the obvious increase in battery life are also welcome, such as lower costs over time and reduced waste.
Better batteries? Bring 'em on!
[Via CrunchGear / Photo: Scalespeeder on Flickr, used under Creative Commons license]
Follow GeekTech and Chris Brandrick on Twitter.