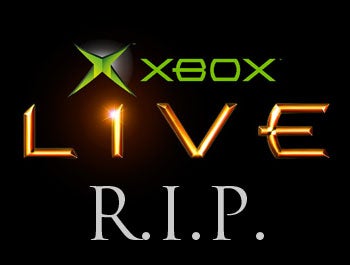 Some thing aren't built to last, but it might surprise you to find out Microsoft's Xbox LIVE online gaming service turns out to be one of them.
On April 15, 2010, Microsoft plans to pull the plug on Xbox LIVE services for its original Xbox as well as online services for Xbox games playable on the Xbox 360. Microsoft's Larry 'Major Nelson' Hryb broke the news on his blog and said the shutdown will commence with immediate discontinuation of auto-renewals for gamers still subscribed to the service through an original Xbox.
"While I can't comment on the specifics, this change will allow us to continue evolving the LIVE service with new features and experiences that fully harness the power of Xbox 360 and the Xbox LIVE community," wrote Hryb. "We did not make this decision lightly, but after careful consideration and review we realize that this decision will allow us unprecedented flexibility for future features."
How does shutting down a naturally diminished branch of your online media service amount to "unprecedented" flexibility (i.e. "having no previous example")? Will it finally embolden Microsoft to offer Xbox LIVE Gold service for free? Could it lead to a radical overhaul of the service, more elaborate than 2008's glorified interface update? Any of those would arguably be "unprecedented."
Impossible to say, since Microsoft isn't, leaving this a funereal announcement–especially for those of you still hip to play Halo 2 online–slickly encapsulated in a vague promise to flip our lids at an undisclosed future moment.
Not that Microsoft's obliged to continue a service like LIVE indefinitely. After all, it launched way back in November 2002, slightly more than seven years ago. It's not like the company still supports DOS or Windows 3.1.
If that's still a trifle vague, Xbox LIVE general manager Marc Whitten offers a lengthier community letter.
"Your Xbox LIVE community has grown to 23 million strong… And as we look down the road, we'll continue to evolve the service with features and experiences that harness the full power of Xbox 360," writes Whitten.
"To reach our aspiration, we need to make changes to the service that are incompatible with our original Xbox v1 games."
Could it mean some form of LIVE-related 'Natal' support?
That's my guess.
Connect with Matt on Twitter (@game_on)