What's the most underused productivity tool in your home or office? Your printer. Confined within that unassuming box, however, is a lot of power–far more than you might imagine.
We've assembled ten printer downloads that can reduce paper and ink consumption, print out CD and DVD labels, create posters, and generate business cards–and that's just a start. Check out these free and affordably priced utilities. They're the best way to unlock your printer's potential.
(For convenient access to all of these downloads, see our "10 Downloads to Power Up Your Printer" collection.)
Save Paper and Ink
Over the life of your printer, you'll spend much more on paper and cartridges than you did on the printer itself. Any of the following four downloads can help you lower those costs–and cut down on waste, as well.
Bullzip PDF Printer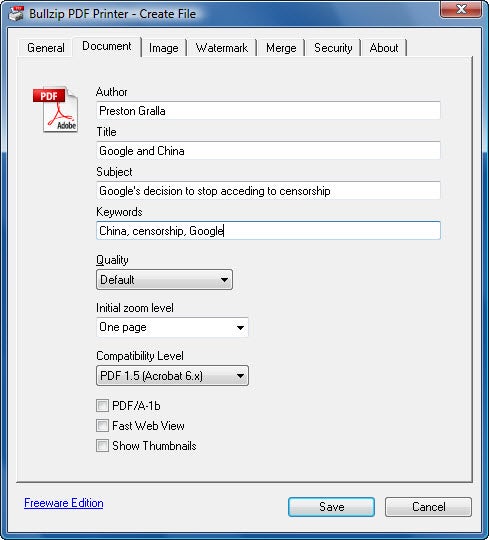 If you're thinking about ways to save paper, you might consider not printing at all. Instead, turn your documents into PDF files and archive them electronically: Not only will you save money, but you'll make filing and retrieving the documents much easier, too. And you can always choose to print the PDF later.
Bullzip PDF Printer does a superb job of turning anything you can print into a Portable Document Format file. It installs as a printer driver; to create a PDF from a document, simply select Bullzip PDF Printer rather than your normal printer in any application's Print dialog box.
The utility offers plenty of options. You can, for example, add a watermark to the file, merge multiple documents into one PDF, password-protect the file, and determine the quality level so that it's suitable for a computer screen, an e-book, printer output, or even prepress output for professional work. You also have the choice of turning the document into an image file (in one of many common formats, such as .jpg, .png, .bmp, or .tif) rather than a PDF.
Bullzip PDF Printer is actually a front end for the public-domain Ghostscript PostScript/PDF printer driver, and it does a great job. If you don't have the Ghostscript PostScript/PDF printer driver on your PC already, Bullzip PDF Printer will automatically download and install it for you, making for a simple installation process overall.
Download Bullzip PDF Printer | Price: Free
FinePrint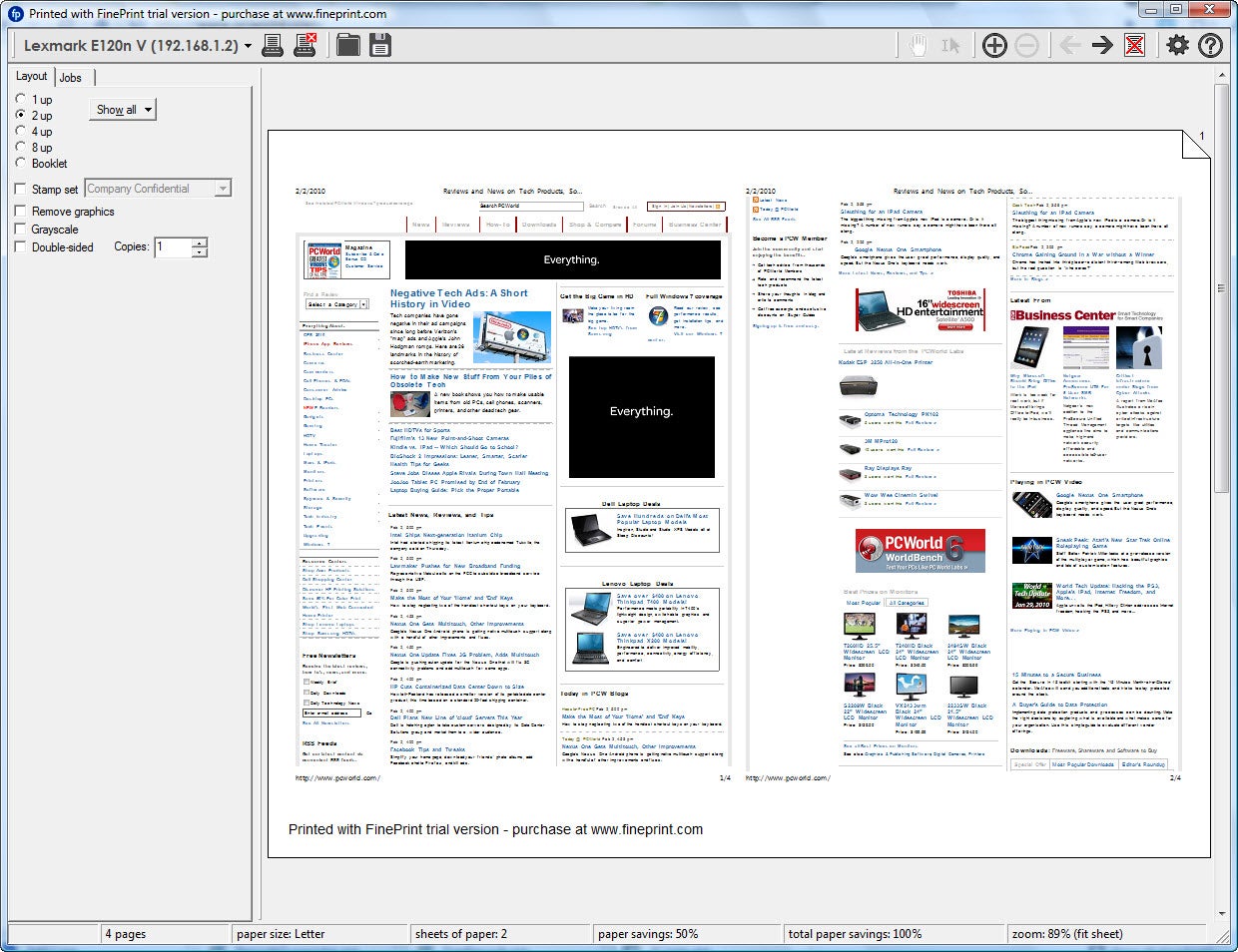 Here's a great way to save paper and gain control over anything you print. FinePrint allows you to print two pages, four pages, or eight pages on a single sheet of paper, as well as to print double-sided pages. It can print out booklets and stationery, too, and combine multiple projects into a single print job. And since FinePrint installs as a printer driver, it's quite easy to use.
FinePrint also lets you eliminate ink-and-paper-wasting graphics from Web pages and other documents before you print them. In addition, if you own a color printer, you can conserve color ink by instructing FinePrint to output in grayscale rather than color. Before printing anything, it previews the job and lets you delete entire pages or sections that you don't want printed. You can also print watermarks, such as "Draft" or "Confidential," on your output.
Be aware that the unregistered version of the utility prints out an ad for FinePrint at the bottom of your pages. If you want the ad to go away, you'll have to pay and register.
Download FinePrint | Price: $50; free trial
GreenPrint World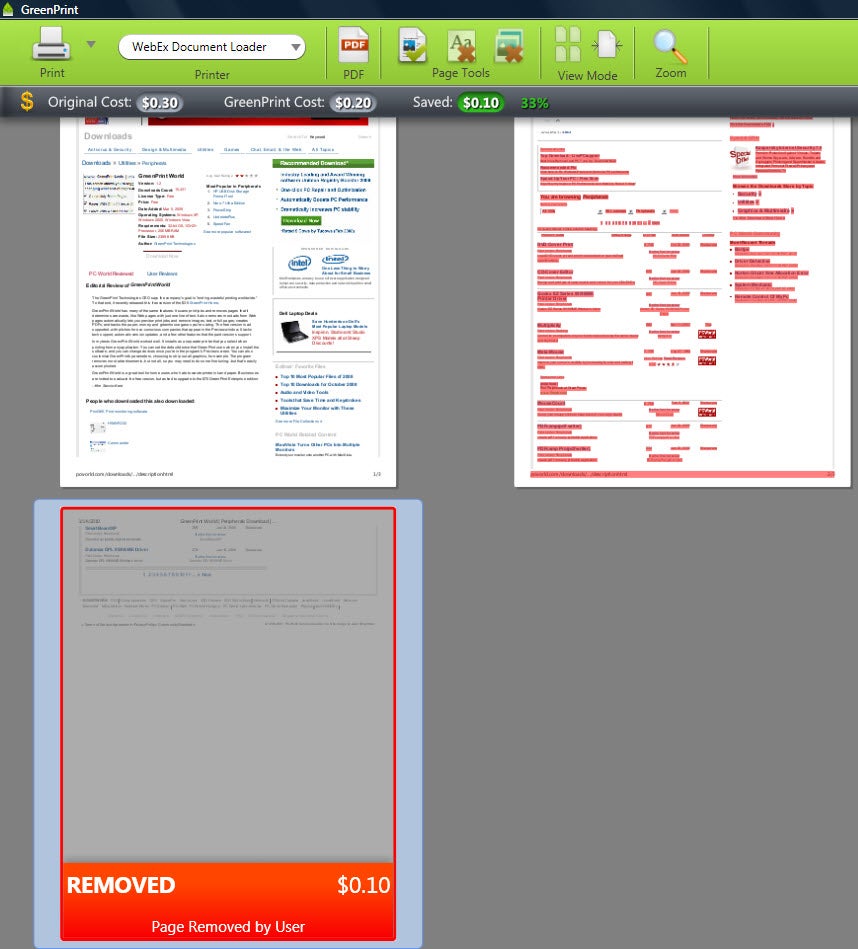 Looking to cut your ink and paper consumption while whittling down your printer costs? Give the free GreenPrint World a try. This useful, clever program will remove pages that it determines are unnecessary, such as those with no text on them. It also permits you to remove images or text from pages, or to delete whole pages, before printing. Alternatively, you can create PDFs from the pages instead of printing them, saving even more ink and paper.
The program is simple to use. Like the two utilities above, it installs as a printer driver; when you're ready to print, you just select it rather than your normal printer. It previews your pages so that you can remove any unwanted portions before it proceeds.
GreenPrint World also attempts to estimate how much paper, money, and greenhouse gases you save when using it. The program is ad supported, but the ads are for the software itself or for socially and ecologically focused organizations–a change of pace from the ads we're usually bombarded with.
Download GreenPrint World (32-bit) | Price: Free
Download GreenPrint World (64-bit) | Price: Free
Printee for IE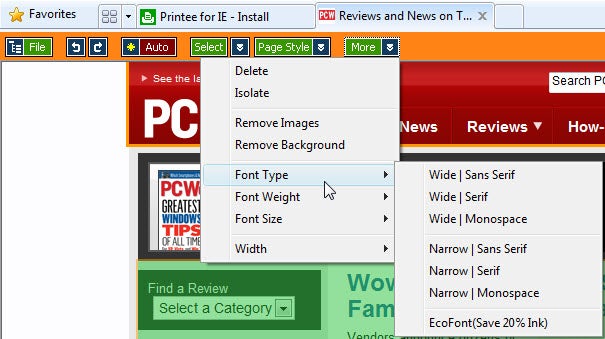 If you're looking to save ink and paper when printing from Internet Explorer, consider the free Printee for IE, which works as an IE toolbar. Click the Printee button, and a series of buttons appear just below Internet Explorer's tabs. With these controls you can perform actions such as removing images from a page, deleting the page's background, selecting portions of the page that you want to print, changing the width, and so on.
Note that for the toolbar to show up, you'll have to restart Internet Explorer after you install Printee for IE. Even then, you might not see it as being available because it appears on the right side of the toolbar; to make it visible, you may have to click the double arrow at the right side of the toolbar.
Upon running the program for the first time, you might find it confusing. When you first reveal the Printee toolbar, the links on the current Web page won't work–if you click a portion of the page, it turns green, which means that you've chosen to print it. Click the Print Preview button to review what you're about to print, and click the Print button to output it.
Download Printee for IE | Price: Free
Business Tools for Your Printer
If you run a small business, or if you use a printer frequently at work, here are a few great helpers that you might want to try. The following three utilities will print out labels, generate bar codes, and help you design and output business cards.
Avery Wizard for Microsoft Office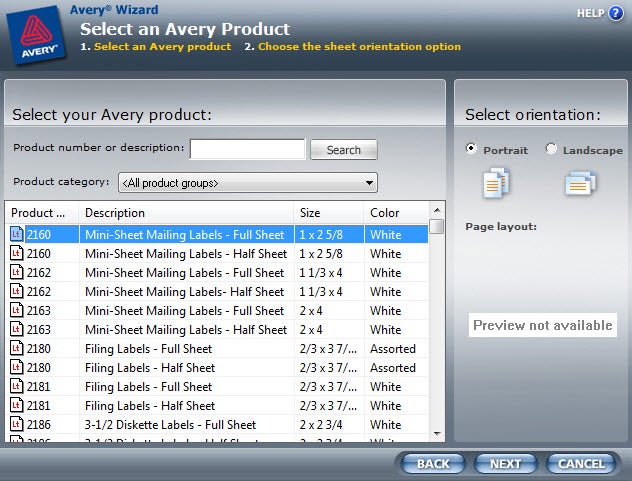 Avery makes labels, name badges, business cards, CD jewel-case labels and inserts, and other office paper products. But just try printing to any of them rather than writing things out by hand, and you might soon grow frustrated. The Avery Wizard for Microsoft Office solves the problem neatly. It runs as an add-in to Office, allowing you to print onto Avery labels and more from within Word.
Click the Avery Wizard button, and the wizard walks you through whatever task you want to perform. It gets the proper predesigned templates for you, and at that point you have only to enter what you want to print. The wizard even helps you perform other tasks, such as importing lists and information from Excel to populate mailing labels. You can also add your own graphics or logos.
Note that you'll have to register at Avery's site to download the program. Additionally, in order to use the software properly, you may have to enable macros in Microsoft Word; read the Avery Wizard readme.doc file for details on how to do that.
Download Avery Wizard for Microsoft Office | Price: Free
Barcode Generator & Overprinter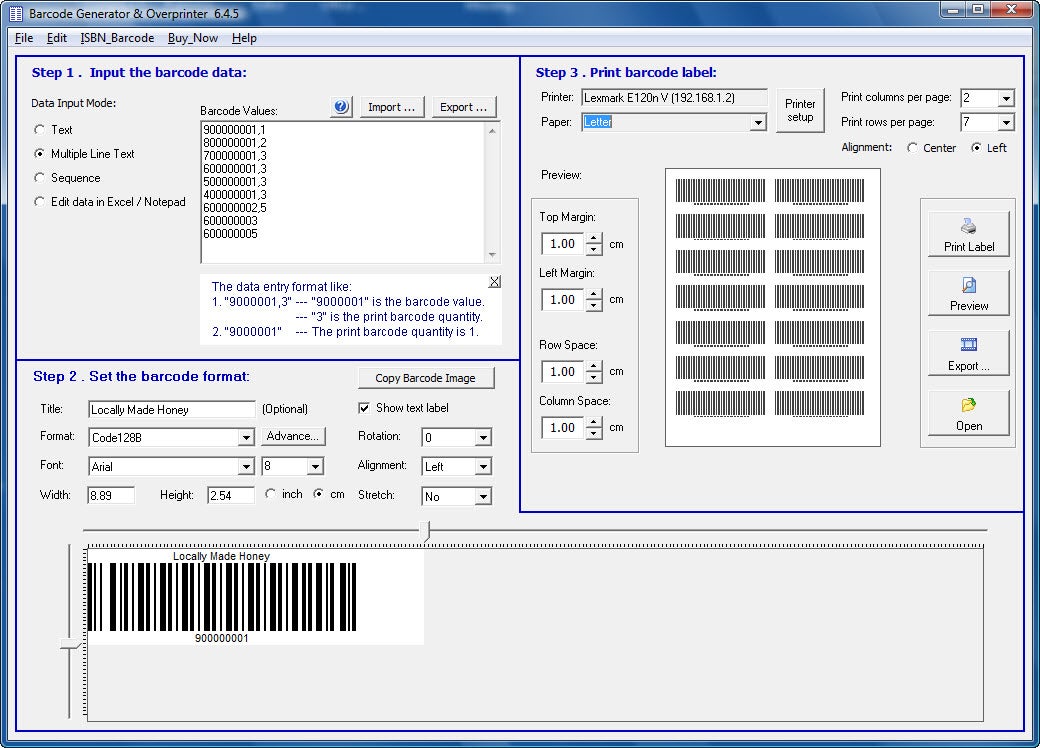 Do you have to print out bar codes for your small business? This program offers a simple way to create them without any special hardware. Just run Barcode Generator & Overprinter, input your bar-code data, and select the kind of bar code you need to print–the program does the rest. You can print out bar codes on sheets of paper, export the bar codes in graphic formats (for importing into desktop publishing, word processing, or other software), or paste them into other programs.
The utility's interface is straightforward, so you'll be able to create bar codes quickly. It imports data from Excel, as well. Note that when you print using the nonregistered version of the software, a "Demo" label will appear at the top of the bar code, as well as in an ISBN bar code itself.
Download Barcode Generator & Overprinter | Price: $50; free trial
Belltech Business Card Designer Pro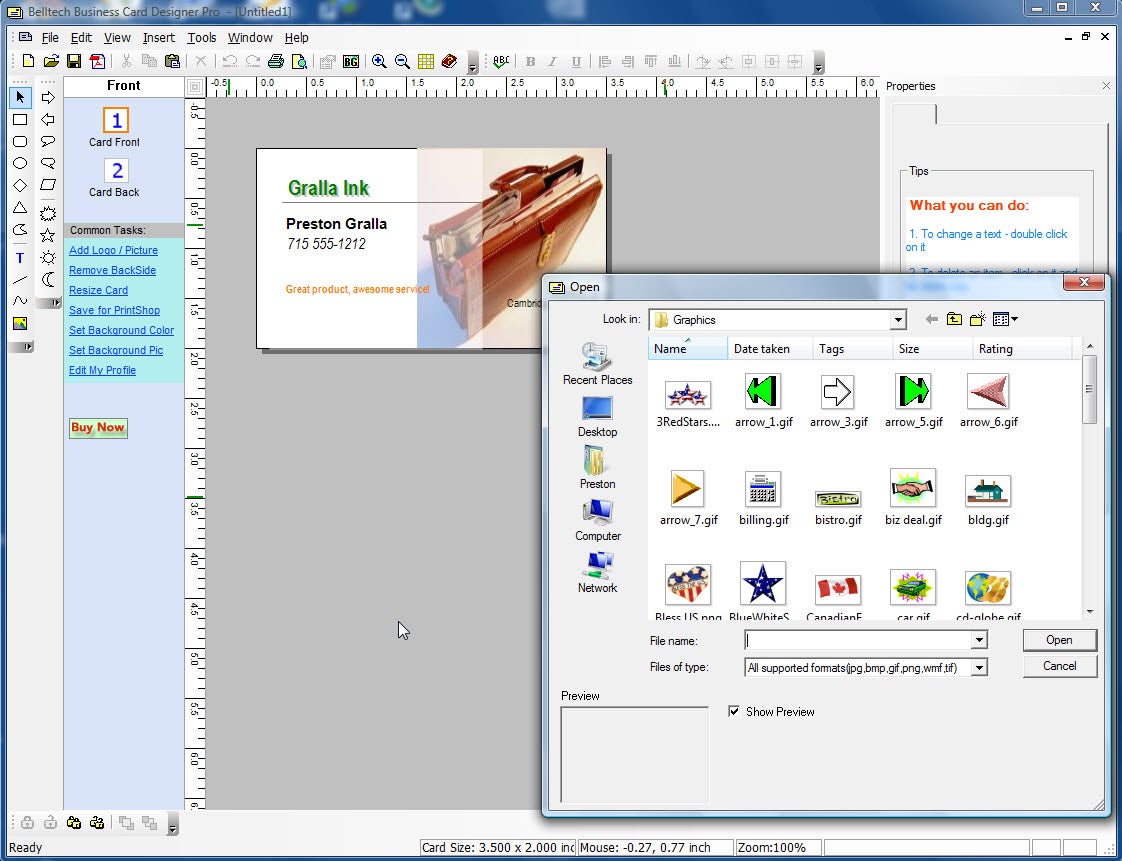 Having business cards designed and printed by a professional is expensive–and thoroughly unnecessary. Instead, you can easily design your own and print them yourself, with Belltech Business Card Designer Pro.
You don't need to know anything about design to create your own business card with the program. Simply enter the information you want printed, and the software handles the rest. If you're happy with the default design, you can create a business card in minutes.
Customizing your card is also extremely easy. After you choose the card size and print orientation (horizontal or vertical), you can move text, insert graphics, use drawing tools, and make other adjustments. Adding your own background and graphics is a breeze, too. When you're ready to print, the software gives you a number of options, including printing the card as is or saving it as a PDF to print later or to distribute electronically. You can also select from many different sizes and types of card stock.
Note that until you pay for and register the program, a "Trial Version" label will appear on your business cards.
Download Belltech Business Card Designer Pro | Price: $30; free trial
Utilities for Printing Posters, Labels, and More
Want to print CD or DVD labels, posters, and even the contents of Windows folders? These three downloads are perfect for the job.
Acoustica CD/DVD Label Maker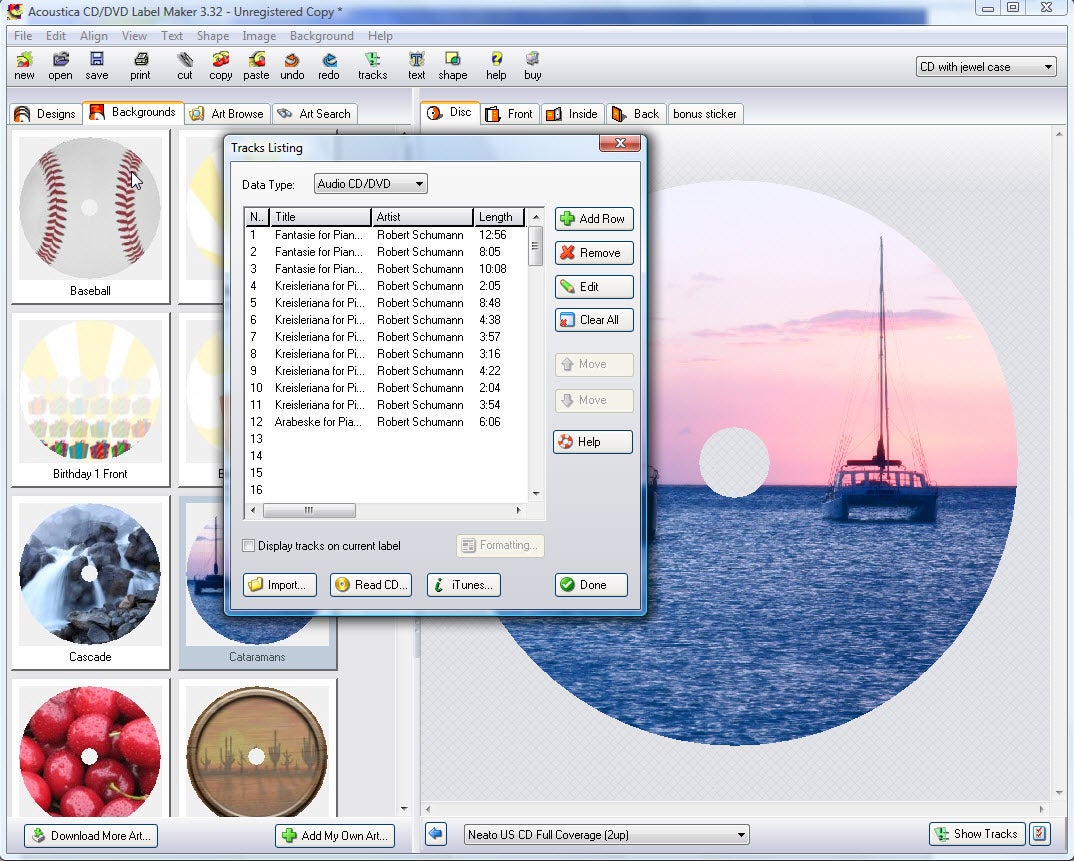 If you want to make labels, disc sleeves, and jewel-case covers for your optical discs, turn to Acoustica CD/DVD Label Maker. It has just about everything you need for creating labels and covers, including the ability to grab information from the Internet to include on them.
Using the program is quite easy: Pick from the available designs and backgrounds, add information about the CD or DVD you want to create, and you're done. The supplied art isn't scintillating, but you can use your own images, too; the utility does a nice job of showing you all of the art on your hard disk, and even lets you search your drive for images.
Possibly the most useful feature is the software's ability to populate the label of an audio CD with track information, automatically. Have a playlist that you want to use in creating a CD? Acoustica CD/DVD Label Maker will import it and use it as your track list. If you've copied an audio CD, the program can import the track information directly from the disc, or else it can go out on the Internet and grab the information from there.
The application supports many different types and sizes of jewel cases, inserts, and labels, so no matter what you need to print, it will most likely be able to handle the task. It also includes tools for creating shapes and adding text, so you can make the output look exactly the way you want it to look.
Download Acoustica CD/DVD Label Maker | Price: $22; free trial
Karen's Directory Printer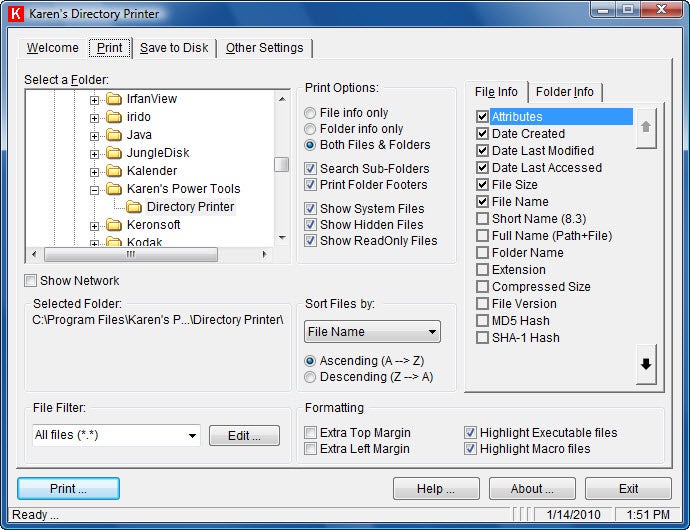 Quick–what's one of Windows' most obvious shortcomings? You can't print a list of every file in a folder, and you can't print a folder name. Things have been this way since the dawn of Windows.
Over the years, people have come up with assorted hacks to get around this limitation, but many of them require you to do in-depth things like editing the Registry. You have a much simpler alternative: Get the free Karen's Directory Printer.
This utility gives you an enormous amount of control over printing lists of files and folders. You can include or exclude a wide variety of details about files, such as the size, the name, the date the file was created, the date you last accessed it, and so on; your choices for printing folder information are similar. You can sort files and folders for printing in any way you want, too. Anyone who has ever wanted to print out a file list or folder list should grab this easy-to-use tool. It's donationware, which means that it costs nothing but the creator also accepts donations.
Download Karen's Directory Printer | Price: Free
ProPoster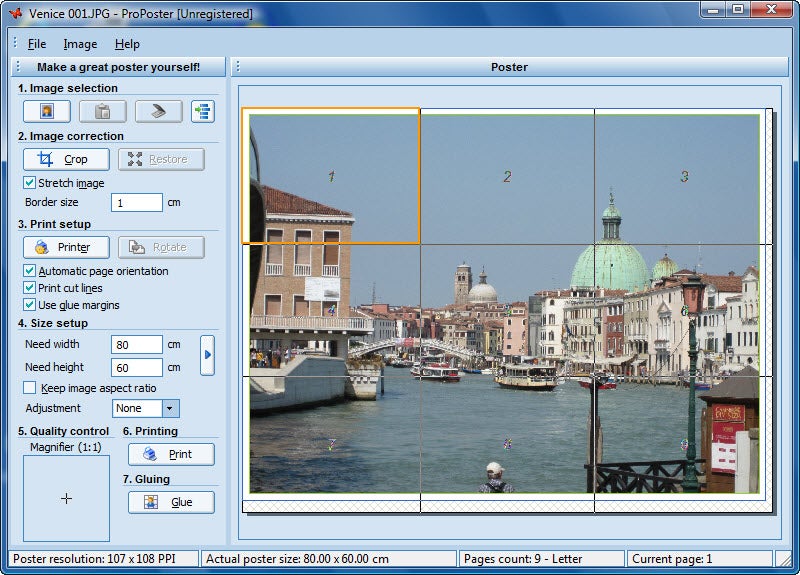 Need to print a banner, a poster, a sign, or some other kind of oversize output? Normally, large-format printing costs an arm and a leg, because you have to send or bring what you want done to a specialized printing service. But with ProPoster, you can save plenty of money and do the job on your own printer. This software makes printing big projects so easy that anyone can do it.
The program can print any digital photo, picture, or Word or Excel document in a number of standard formats or in your own custom size. Select your image, and ProPoster will divide it into several pieces depending on its size and on the type of output you've selected. Before printing, you can crop the image, stretch it, and add a border. Then, when you print it, you'll get several pages of output. Take a pair of scissors, cut along the proper lines, glue everything together, and you're done.
Note that until you pay for ProPoster, all of its output will display a "Not registered" watermark.
Download ProPoster | Price: $20; free trial