Forget the redesigned homepage and the inevitable controversy it will c

reate, Facebook's next feature might actually be something its users will adore.
TechCrunch reports that Facebook is overhauling its message service and turning it into full-blown e-mail. Remember when everyone scrambled to get a vanity Facebook URL last June? Your Facebook e-mail address could be vanityURL@facebook.com. The so-called "Project Titan," launch date unknown, would also include POP/IMAP support for checking mail outside of Facebook.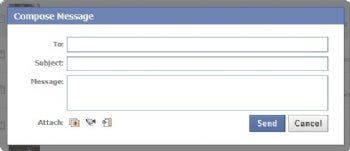 That's a good start, but here are five other features I'd like to see in Facebook e-mail:
Multiple Inboxes
Here's where Facebook e-mail could really flourish: The site already lets you divide friends into distinct lists, such as friends, family and work. An e-mail service could sort incoming messages accordingly, letting you check separate inboxes even when everything's going to the same address.
Convenient Access
Checking e-mail is often the first thing I do when switching on my computer or fiddling with my phone. Give me a convenient URL for direct Web access, such as facebookmail.com, so I don't have to hit my Facebook landing page first. Also, a mobile app that loads right into Facebook mail woud be helpful.
Optional Threading
As a Gmail user, I'm now addicted to the way it combines all e-mail messages on a single topic into one conversation thread. Facebook already does the same thing with its message service, making me confident that the feature would carry over into e-mail. But those who despise threading should have the option to turn it off.
Pull in Facebook Info
A Facebook e-mail service should make it simple to pull Facebook information directly into messages. Someone wrote something ridiculous on my wall? Give me a button that lets me easily find and link to it. Same goes with photos and albums, which should appear as thumbnail previews in messages.
Manage Everything From E-Mail
If Facebook becomes my e-mail service, it should make administrative tasks easier. Approving friends, sending event RSVPs, and responding to wall posts should all be possible directly from e-mail, without ever visiting a separate Web page.