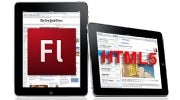 Adobe Flash has become the overwhelming leader for online video streaming, but Apple's recent announcement of the iPad has cast a shadow over Adobe's technology and led many to wonder whether Flash is on its last legs. PCWorld editors Ed Albro, Jason Cross, Robert Strohmeyer, and Nick Mediati take a look at the facts surrounding Flash and HTML5. Is HTML5 almost ready for prime time, or is this just more posturing from Apple?
Meanwhile, the sudden rise of e-book readers may now be threatened by the upcoming crop of tablets. Is it time for Amazon to give up on the Kindle and shift its focus back to content?
You can also stream the podcast via QuickTime:
Subscribe to the PC World Podcast on iTunes or via the PC World Podcast RSS feed. You can reach us atpodcast@pcworld.com and review our podcast oniTunes.