Google wants to pioneer the first smartphone technology to translate foreign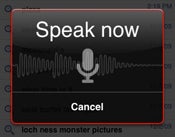 languages almost instantly, the search giant told British daily The Times. The technology will be able to convert spoken words into a different language in real time, and could be ready within a few years.
Just as Google Translate converts text in 52 languages, the voice translation service will mimic a human interpreter. To achieve this, Google plans to combine the technology behind its text translation service with a voice recognition system, similar to the one found on Android smartphones.
The idea behind the feature is to allow users to easily communicate in other languages using a smartphone. The system would "listen" to the speaker until it understands the full meaning of the words/phrases and then send it to Google's servers for translation. The person at the other end of the line would listen to a robotic voice translation and vice versa.
This all sounds good in theory, but it will be some time until we get to use li
ve voice translation — probably in a "few years' time," Google's head of translation services, Franz Och, told the Times. Despite "huge progress recently," it's still difficult to recognize various accents, Och explained. Google aims to solve this problem by having the software learn the users' style of talking.
So don't cancel your foreign language lessons just yet. Until then, you can get a taste of what's to come ahead with several voice features found on the Google Android mobile operating system, such as search by voice, voice-enabled Google Maps navigation on the Motorola Droid, and voice-based text input on the Nexus One.