At a Glance
Expert's Rating
Pros
Sturdy chassis
Strong multitouch functionality
Cons
Too heavy to tote for long
Our Verdict
It isn't especially light or attractive, but the business-friendly T4410 offers strong performance in a multitouch-ready, convertible package.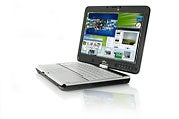 Fujitsu's LifeBook line has produced some impressive contenders among tablet PCs, and the Fujitsu LifeBook T4410 rates as a solid and versatile performer for business users. With a glut of multitouch-friendly tablets (including the vaunted Apple iPad) promising to revolutionize the way we compute, it's easy to forget that convertible laptops have been around for a while now. The LifeBook T4410 ($1299 for the configuration we tested) may not match the low prices of those "other" tablets, but it has the advantage of being a fully functional laptop, too.
The T4410 houses a 2.2GHz T6670 Core 2 Duo CPU; 2GB of DDR3-1066 RAM; and a 160GB, 5400-rpm hard drive. Running Windows 7 Professional (32-bit), the T4410 earned a mark of 86 on our WorldBench 6 test suite. That's a scant three points higher than its older sibling, the Fujitsu LifeBook T5010, which ran Windows Vista Business edition on similar components. We timed the unit's battery life at almost 4.5 hours, putting slightly above the average for all-purpose laptops.
Like the T5010, the LifeBook T4410 is built for business. The screen's bezel accommodates a 2.0-megapixel Webcam, a pair of microphones, a fingerprint reader, a pair of speakers, a sliding power switch, and five customizable shortcut buttons. It looks a bit cluttered when you work in standard laptop mode, but the logic becomes clear when you fold the screen down, and everything remains readily accessible. The screen's orientation can be shifted with the push of a button–handy for switching from portrait to landscape mode, or for adjusting to suit left- or right-handed users.
The chassis is sturdy, and the screen swivels smoothly, without feeling flimsy. The T4410 also offers a fair number of connectivity options, scattered about the base: three USB ports, a four-pin FireWire port, HDMI and VGA outputs, gigabit ethernet, multiformat card reader, and an ExpressCard slot. The DVD burner is housed in a modular bay, and you can replace it with a second battery (at extra cost) if you need to spend more time away from the power outlet. The speakers are predictably subpar–this is a business notebook, after all–so if audio playback is important to you, you'll want to pick up a pair of headphones or a proper set of speakers.
I found the 84-key keyboard comfortable to type on, with reasonably quiet and evenly spaced scissor keys. The undersize function keys make some tasks a bit of a chore, and the lack of dedicated media keys is disappointing, but overall the experience is still pleasant. The T4410's trackpad is less impressive. Though smooth and responsive, it is a bit narrow and lies flush with the armrest; inevitably, touch-typists who have large hands will graze it, sending their cursor flying and making extended typing sessions frustrating.
But never mind the trackpad: You're here for the touchscreen. If you enjoy writing on dead trees and have yet to dabble with Windows 7's excellent handwriting recognition, you're in for a treat. The T4410's 12.1-inch display sports a resolution of 1200 by 800, and is large enough to write on comfortably. The recognition program adeptly translates all but the most doctorly of scribbles, and the T4410's lightweight stylus (with eraser nub) stows handily into the base of the chassis. Spring for the optional dual digitizer, and you'll get a capacitive multitouch screen. Multitouch gestures (also courtesy of Windows 7) are snappy and responsive, and the dual digitizer adds just $100 to the price-tag–a paltry surcharge for a device whose price starts at $1200.
Though Wacom supplies the display, the device lacks the pressure sensitivity of a proper Wacom tablet: Casual photo touch-ups and doodling in GIMP work well, but don't expect to find a full digital canvas. Though the screen is bright and evenly lit, colors appeared muted, with greens and blues losing much of their luster. Screen glare can be a problem if your work take you outdoors, though the visibility is fine in low-light and under standard fluorescent office lighting. The display supports 160-degree vertical and horizontal viewing angles–an important consideration when you fold it down into its tablet mode.
Like the T5010, the T4410 comes tantalizingly close to being an exceptional digital note-taker, but a few concerns remain. The device still gets a little too warm–by no means hot, but potentially uncomfortable if you hold it aloft for extended periods of time–and it's still a bit too heavy. Our test model with the included optical drive weighed 4.6 pounds, which may not sound like a lot, but can become quite burdensome if you hold it in the crook of your arm for very long.
I'd like to see Fujitsu ditch the optical bay altogether. You'd lose some of the machine's functionality, but the concomitant improvements in portability and comfort would outweigh the loss of the DVD burner. Though the Fujitsu LifeBook U820 made a potentially excellent companion, the costs of miniaturization were too high: Windows Vista, an Atom processor, and a tiny 5.6-inch screen made the device at sluggish and difficult to use. Conversely, the T4410 is a bit too large, but delivers performance on a par with standard laptops while offering superior functionality through its stylus-friendly touchscreen. Until Fujitsu (or a competitor) offers a convertible laptop that straddles the line between netbook and all-purpose laptop, fans of touch who insist on having a proper keyboard should add the LifeBook T4410 to their short list of candidates.