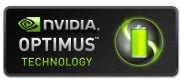 Does your laptop have switchable graphics? You know, both an integrated graphics chip that sips energy and gives you long battery life along with a discrete GPU (graphics processing unit) that offers better 3D graphics and video performance? Notebooks with switchable graphics have been shipping for years, but they haven't lived up to user expectations. Nvidia hopes to change that with their new Optimus technology.
The first notebooks with switchable graphics had a physical switch to toggle between the integrated and discrete GPU, and required you to reboot the system to switch from one to the other. More recently, you could change between the integrated and discrete GPU with software – using a small tool-tray icon or changing the power profile in Windows. The screen would then blank out for a few seconds, and you'd be up and running with the discrete GPU or back to the battery-saving integrated graphics. Unfortunately, this is a little obtuse for the average user, and many who own laptops with switchable graphics never actually switch.
Optimus promises to make this much easier. When the system detects a 3D application or video (if it's decoded using the DirectX Video Acceleration plugin, as most are), the GPU simply turns on. When you're done with the 3D app or video, it goes back to the integrated GPU. There's no screen blanking, no buttons to hit or switches to flip. The technology promises discrete GPU power when you need it, integrated graphics when you don't, automatically.
How does it work? It's really rather clever. Laptops with previous switchable graphics tech had to have a serious of multiplexers (MUXes) connecting both the integrated and discrete graphics to the display. This was costly, and required software to change the system's rendering between the two graphics systems. Optimus is a lot cleaner. When the discrete GPU is called for, it powers up in a split second and copies the results of its frame-buffer to the frame-buffer of the integrated graphics chip over the PCIe bus. Because the system is technically always displaying the contents of the integrated graphics chip's frame buffer, there is no flicker or blanking of the screen, and no series of MUXes required to connect them both to the display.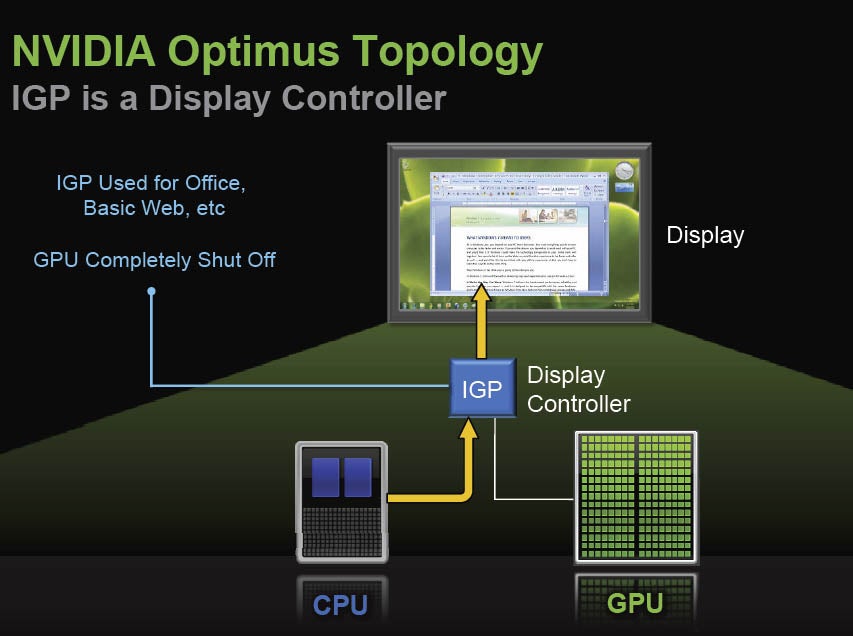 The rest is all software – a sophisticated bit of driver work by Nvidia to detect certain applications and fire up the discrete GPU as needed. After all, the Windows desktop is technically 3D accelerated, as are built-in applications like Solitaire or Chess, but you don't need or want the discrete GPU for those.
This relies on Nvidia's drivers having application profiles for the games or applications you wish to run, of course. Fortunately, the Optimus driver incorporates a new cloud-based approach whereby a small application profiles update will be automatically pushed to users, without the need to download and install new drivers. This profile-pushing technology will ultimately find its way to other Nvidia driver features that require profiles, like SLI and 3D Vision.
The Optimus technology supports most of the currently shipping notebook platforms, outside of AMD's offerings. The Core i3, i5, and i7 "Arrandale" notebooks are supported, as are Core 2 Duo platforms and the new Atom N4xx "Pine Trail" platform for netbooks. If you've been wondering how Nvidia will offer Ion for netbooks now that the Pine Trail Atom processors have the GPU integrated into the CPU, there's your answer. Optimus-enabled GPUs from Nvidia will be found in the GeForce 200M, 300M, Ion, and future-generation notebook GPUs.
Optimus isn't what one would call a "sexy" technology – there's not much to see. As boring as it may be, it's really quite cool. If it works as advertised, it will be a huge boon to laptop users. The average consumer probably assumes that switchable graphics already works the way Optimus does, so here we have a technology that finally delivers on customer expectations. And without the MUXes needed in older switchable graphics tech, it's cheaper for laptop makers to implement, too.
We are currently testing one of the first notebooks to feature Optimus technology, the ASUS UL50Vf. Stay tuned for our full review of that notebook to hear our thoughts on how well the technology works.