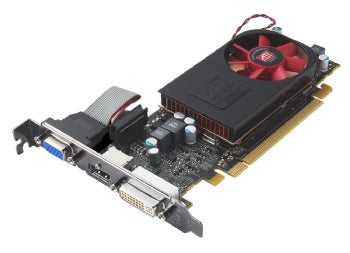 tweetmeme_style = 'compact';
Following up the recent launch of
its Radeon HD 5450
, ATI today announced the Radeon HD 5570. This new card supports DirectX 11 and OpenGL 3.2, and is designed with small-form-factor desktop PCs in mind.
ATI pushes the Radeon HD 5570 as an energy-efficient, high-performance card. The company clams that the new card can provide "up to a 60 percent performance improvement over the closest competing product in its class" (presumably, other cards geared toward compact desktop PCs), and it uses 45 watts at when under a full processing load.
The Radeon HD 5570 may be a good choice if you're interested in building a home threater PC with full 1080p HD video playback and support for HDMI 1.3a with Dolby TrueHD and DTS-HD Master Audio.
Like other new ATI cards, the Radeon HD 5570 supports ATI's Eyefinity technology, and lets you drive three monitors off one card. The Radeon HD 5570 can also handle software that makes use of OpenCL, though you'll have to wait until OpenCL drivers ship later this year.
Various HD 5570 cards are now available on Newegg for around $85. For more information, see the Radeon HD 5570 product page.
Story updated Feb 10, 10:29 AM to add pricing info.