Just when the iPad noise starts to fade, a new rumor pops up to get tongues wagging again. Whether it's an analyst's suspicion that Apple might cut iPad prices if the tablet doesn't sell well out of the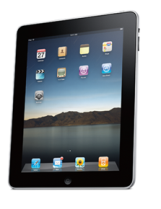 gate, or a market research study suggesting that consumers really don't want an oversized iPod touch, there's little doubt the iPad still commands headlines.
The latest bit of speculation arrives via Wired's Brian X. Chen, who reports that Apple has posted a job listing for a performance QA (quality assurance) engineer for its iPad Media division. The ad seeks an engineer with digital camera (still and video) experience, and the job requirements strongly suggest that future generations of iPads will indeed have video cameras, just as today's iPhones, MacBooks, iMacs, and iPod Nanos do.
Earlier, one of PC World's sibling publications, Macworld UK, reported that the iPad appears to have an open spot where a MacBook camera fits nicely.
Why No Camera?
The camera-less iPad came as a surprise to tech industry watchers, many of whom felt the tablet's large display, numerous media tools, and strong consumer focus made it a natural for face-to-face video chatting via Skype or a similar VoIP service.
Which led to more speculation: Was the camera left out intentionally to provide the second-generation iPad with a gee-whiz upgrade? Or did Apple ditch the camera to hit the aggressive $499 price point, as some pundits have suggested.
Say No to iPad 1.0
Whatever Apple's reasoning, the camera issue is relevant to consumers who are strongly considering buying an iPad. Simply put, buyers should steer clear of the first-gen model — the camera-less device model launched last month — and wait for its camera-equipped successor.
Sure, it's always wise to avoid the first-gen of any tech gadget, but the advice is particularly sage with the iPad. Wh
y? Because a camera would greatly enhance the capabilities of the iPad, which in its initial incarnation is essentially a media- consumption device for the home. Its communications tools are limited.
Some bloggers have suggested that while the iPad isn't for them, it might make an excellent (and relatively inexpensive) pseudo-laptop for their technophobic parents or grandparents. If so, bring on the video camera.
Video chatting is a natural for today's far-flung families, so much so that leading HDTV manufacturers LG Electronics and Panasonic are adding Skype video and voice calling software to their new Internet-connected TVs. Those sets, however, will require additional video hardware, whereas the handheld iPad could be a complete video-calling solution tailor-made for Grandpa.
A camera would make the iPad more appealing to business users too, although the device is clearly targeted at the consumer market for now.
Contact Jeff Bertolucci via Twitter (@jbertolucci ) or at jbertolucci.blogspot.com .