At a Glance
Expert's Rating
Pros
Makes sharing large photos and documents easier
Saves plenty of hard-disk space
Our Verdict
FileMinimizer does an effective job of compressing photos and Office documents, but $80 might be a steep price for a one-trick pony.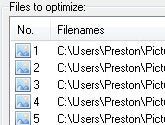 If your hard disk is clogged with massive photos and Microsoft Office documents, or if you're looking for a better way to share those large files, consider FileMinimizer Suite 6.0. This simple-to-use software reduces photo sizes by approximately 90 percent with little noticeable degradation of on-screen quality, and typically it shrinks Office files by at least 25 percent, with no quality loss.
FileMinimizer does not create .zip archives containing your data; the files it creates retain their original format and are usable just as the originals are, so .jpg files remain .jpg files, .ppt files remain .ppt files, and so on. It handles Excel, PowerPoint, and Word files, as well as an assortment of image file formats (such as .jpg, .png, .gif, .tif, .bmp, and .emf).
The basic operation couldn't be simpler. Choose the files that you want to compress and select the compression strength (low, standard, or strong), and FileMinimizer quickly goes about its work, taking only a few seconds to compress each individual file. By default it keeps your original file and creates a new one, appending the text '(FILEminimizer)' to the name. You can, however, tell the program to overwrite your original file, and you can also have the utility apply a different name rather than appending the '(FILEminimizer)' label.
How effective is this tool? Very effective, particularly with graphics files. In my tests using its standard compression, it reduced graphics files by approximately 90 percent on average. The software shrank dozens of photos with little to no perceivable quality loss. Only when I zoomed in on fine details–such as the gradations of color in stonework or shadowed hues in the folds of fabric–did I notice any degradation of quality on screen, and even then it was barely there.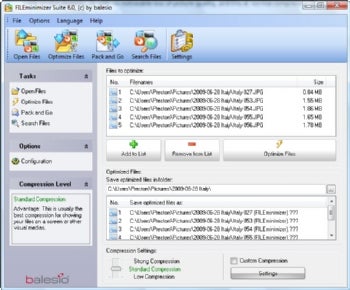 Keep in mind, though, that you will likely notice the difference when printing the photos; if you plan to make a hard copy of a photo, you should use the low compression setting. In my tests, low compression reduced the photos' file size by about 80 percent. At the other end of the quality scale, when I used high compression I was able to reduce photos by between 96 and 98 percent, but at that level of compression the image degradation was noticeable, with fuzziness and obvious loss of detail.
Office file sizes typically shrink by 25 to 30 percent, with no loss of document quality. Note, however, that when you shrink Office files, the software may ask you whether to "flatten" them. Office files often include embedded objects–portions from other Office applications, such as charts, tables, pictures, Word documents, and so on–that you can edit. When you "flatten" the files, you not only decrease file size but also make the embedded objects uneditable. In my tests, I didn't find a dramatic difference in file size between flattened and nonflattened documents anyway; the difference was typically only a few percentage points.
FileMinimizer Suite 6.0 has a few nice extras. It integrates with Microsoft Outlook and Lotus Notes, so you can attach a compressed file to an e-mail message from within the suite itself. It also integrates with Windows Explorer, so you can compress files by right-clicking them.The program is customizable, too, and lets you create your own compression settings.
If you regularly create large files and are looking to conserve hard-disk space, or if you want to share the files more easily, FileMinimizer Suite 6.0 is worth the $80 (as of February 10, 2010) price. But if you need to shrink only a handful of files every now and then, that's probably too steep a price to pay.