At a Glance
Expert's Rating
Pros
Synchronize passwords across multiple PCs
Access saved logins from anywhere
Cons
Confusing first-time setup
Additional software installation required
Our Verdict
RoboForm Online is a major plus for current RoboForm users, but it isn't as smooth as other password sync options.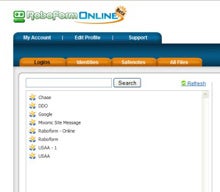 RoboForm Online adds a useful online synchronization feature–plus anywhere access via a Website–to the popular RoboForm password management software. It will benefit who already uses RoboForm, but the service needs further polishing to raise its user-friendliness to the level of rival LastPass.
To use RoboForm Online, you must first install the $30 software for RoboForm–a mature, smooth program that ties in to both Firefox version 2 or later and Internet Explorer 6 or later, with a new toolbar. The program allows you to save passwords and automatically log into Websites, automatically fill forms with a wide range of details, and manually save secure notes.
RoboForm saves its login data in PassCard files, stored under My Documents, My RoboForm Data. If you already have RoboForm installed on multiple PCs, you can manually synchronize your saved passwords by copying the contents of the folder from one machine to another, as long as you use the same RoboForm master password on each one.
RoboForm Online automates that manual step by copying all of your PassCard files to online storage and then synchronizing the online files to any PC that has RoboForm version 6.9.93 or later installed on it (each additional RoboForm license runs $10). Prior to using this tool, you must create a separate RoboForm Online username and password and then permit RoboForm to install GoodSync software on your system; GoodSync is free to use with RoboForm Online.
From then on, you can automatically sync your passwords among multiple PCs that have RoboForm installed on them. You can also log in to the RoboForm Online site to get to your passwords from any browser, or use a bookmarklet to use or save logins from a computer that lacks RoboForm. RoboFormOnline uses your RoboForm master password to encrypt your online files, so make sure that you have such a password before using the online program.
Syncing is a relatively smooth process once you get everything properly set up, but the initial preparation can be a bit tricky. The first time I tried to set up RoboForm Online to sync with a second PC, I got an error message asserting that there were too many changed files. According to the company, that impediment is an intentional protection to guard against damaging your online-stored files in case your PassCards get deleted or corrupted following a computer crash. I eventually figured out that I could perform the first sync by opening GoodSync's complicated interface and clicking the Sync button there–but first-time users sorely need better guidance through the process.
Since using the Web today often means having to juggle countless logins, being able to manage and synchronize your passwords among multiple computers is a huge plus. But while RoboForm's base software is easy and useful, the confusing first-time setup and the need to run additional software give RoboForm Online an uncomfortably grafted-on feel. LastPass, a similar service (the ad-supported version is free, and LastPass Premium costs $1 per month) that was designed with synchronization in mind, feels smoother.