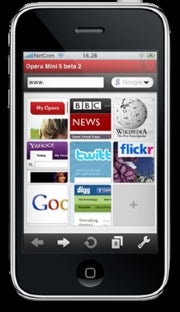 Opera has announced plans to release the Opera Mini mobile Web browser for the iPhone. The app isn't available yet — Opera plans to show it off during Mobile World Congress next week — and it's possible the early announcement is meant to generate excitement, therefore pressuring Apple into approving this threat to its native Safari browser. But what's the big deal, anyway? See for yourself with the Opera Mini simulator, or check out these five reasons Opera Mini could become your favorite iPhone Web browser, if Apple approves it:
Super Speed
Opera claims that its mobile Web browser can cut the iPhone's Web data traffic by 90 percent, thanks to a method of compressing images and text on its own servers. This would, of course, improve the loading time of Web pages as well.
Home Page
Forget loading up a new browser window with nothing in it. Opera Mini's "Speed Dial" feature lets you customize a grid of nine favorite Web sites for quick loading without visiting your list of bookmarks.
Find in Page
The inability to search within a Web page for text is Safari's most glaring omission. In Opera Mini, it's as simple as clicking the Tools icon, then clicking "Find in Page" and typing whatever you're looking for. Sorry Apple, sometimes Web pages just need to be searched.
Greater Flexibility
Here are some other things you can't do in Safari, all of which can be controlled or enabled in Opera Mini's settings menu: Saved passwords, adjustable image quality, full screen browsing, adjustable font sizes and customizable skins.
Free, Presumably
iPhone experts might point out that there are already plenty of other browsers to choose from, but the vast majority of them cost money. Opera Mini is a free download for other phones, so I assume it'll be free if Apple approves it for the iPhone. That alone could make it the most attractive Safari alternative yet.