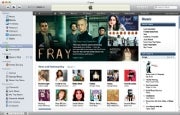 Contrary to its reputation for emptying wallets, Apple has been on a price-chopping spree. First came reports that if iPad sales tank, Apple would lower prices to regain already waning consumer buzz. Now Apple is considering lowering the cost of iTunes TV show downloads to $1, according to the Financial Times.
Discounted TV shows should arrive around the same time as the iPad's April release. TV downloads currently cost $1.99 for standard-definition and $2.99 for high-definition — so it's not really a deep discount, but Apple hopes it'll strengthen the iPad's appeal; a smooth move given the bountiful criticism the tablet has already garnered. The report doesn't mention whether or not both standard- and high-definition prices will be lowered (but hey, $.99 is an extra iTunes song).
Selling TV programs for $1 might mean movie download prices could drop, though that's pure conjecture on my part. But now that DVD rental entities such as Redbox are supposedly crushing Hollywood, Apple could raise stakes and sell even more convenient movie rentals at a competitive price.
The report comes at a very ironic time for Apple. Since its decision to enter the e-book arena, Apple has stirred a mini-rebellion of sorts that has incited publishers to demand a higher pricing structure for the sale of e-books, straying from Amazon's $9.99 model. Perhaps lowing prices is Apple's way of making nice-nice with those who now think the company is money-hungry.
The Financial Times discovered more than just this — apparently talks of creating a $30 per month iTunes TV subscription service are still on the table. "The computer maker has not given up on earlier discussions with some potential partners about creating a 'best of TV' subscription service for $30 a month that media companies fear would destroy traditional distribution relationships," the report claims through "people familiar with the discussions."
An iTunes TV subscription sounds both awesome and impossible. Networks, advertisers and cable providers would all lose money in the deal, making it highly unlikely.