Google on Wednesday announced that it wants to "build and test ultra high-speed broadband networks in a small number of trial locations across the United States." Google's proposed networks would service anywhere from 50,000 to 500,000 people with commercial broadband Internet service reaching speeds of up to 1 Gigabit per second.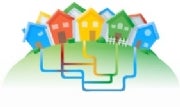 In a recent blog post, Google painted a very compelling picture for what this super high-speed broadband would look like, by asking you to "imagine sitting in a rural health clinic, streaming three-dimensional medical imaging over the web and discussing a unique condition with a specialist in New York. Or downloading a high-definition, full-length feature film in less than five minutes." Very compelling indeed.
But why Google would want to undertake such a major project in the first place is not exactly clear yet. It's doubtful that Google would want to deliver broadband service to every home in the United States. So what is the search giant up to this time? Is Google's goal to influence national broadband policies? Maybe Google wants to show that traditional ISPs are deploying broadband ineffectively. It's hard to know for sure what Google's up to, but here are five different possibilities.
Google Is Trying To Shape Broadband Policy
Maybe Google's biggest point is to create a model broadband network that the United States, and maybe even the rest of the world, can use as an example of how broadband Internet should be deployed on a national level. Google's broadband network would not only be fast, but would also be managed with the principles of net neutrality in mind.
If that really is what Google's up to, it would be very similar to what the company did when it bid on the 700 MHz wireless spectrum in 2007. At the time, Google wanted the FCC to require winning bidders to run the newly available wireless spectrum with several caveats. First, the bidder had to run an open wireless platform where customers could choose to run any device they wanted and subscribe to any wireless provider they wanted. Google also wanted the FCC to require network providers to resell their wireless bandwidth at wholesale prices to other firms (the wholesale-resale model). Google's main goal with its wireless spectrum bid seemed to be about promoting openness and freedom of choice for consumers rather than actually buying up wireless spectrum. So maybe Google's broadband experiment is more about promoting the principles of an open and free Internet using a modern broadband connection as opposed to becoming a full-fledged ISP.
ISPs Must Bend To The Will Of Google
If Google can prove that its broadband experiment not only delivers customer satisfaction, which it may, but also that Google's method can deploy broadband cheaper and faster than other ISPs, then watch out. Dow Jones Newswire on Thursday reported that Verizon pegs the cost of delivering fiber-to-the-home connections at $1,350 per home, and cost is one reason why upgrading broadband networks across the country has been a relatively slow process.
As part of Google's broadband experiment, the company says it wants to "try out new ways to build and operate fiber networks, and share what [they] learn with the world." So what if Google ends up building and operating a fiber network faster and cheaper than other ISPs? A better customer experience, and it's cheaper to deploy? Now that could be disruptive.
Google's Broadband Plan Is Naive
While Google's intentions may be in the right place, the day-to-day demands of running a broadband network for consumers may be more difficult than the search giant imagines. As one anonymous industry executive told Dow Jones, "Google doesn't have experience sending trucks and technicians to people's homes or sending out monthly bills." Well, that's not exactly true, because Google is getting a crash course in customer service right now, thanks to its newly launched Nexus One mobile device. Has Google learned enough about customer service from its Nexus One adventure to be an effective ISP? Well, as long as Google can master the phrase, "We'll be at your home between 1 p.m. and 6 p.m. next Thursday," I think Google the ISP will be just fine.
Privacy
You can't talk about Google without talking about privacy, and broadband service is no exception. In May 2008, Internet service provider Charter Communications came under fire after it launched a pilot project to test behavioral ad targeting. Charter's plan was to hand over the browsing habits of its customers to a third party, NebuAd, which would then deliver online advertisements to Charter customers. Eventually, Charter backed off the behavioral tracking plan after heavy criticism from privacy advocates.
What made Charter's plan so troubling is that ISPs have the ability to track everything you do online. With Google, the complications and conflicts of interest between running an ISP and an advertising network could be problematic. Google's advertising network is focused on delivering relevant advertising to Google users, so it's not unreasonable to wonder if the commercial interests of Google the ISP and Google the advertising network wouldn't conflict with the privacy interests of Google's broadband customers.
Google Is Building Up Municipal Broadband
One of the biggest threats to the way national ISPs do business are municipal broadband projects where a city develops its own broadband network and then creates a city-owned utility to deliver Internet service to city residents. City governments love the municipal broadband concept since traditional ISPs serving city residents may not be willing to incur the cost of upgrading broadband networks in smaller or more remote communities. But ISPs feel threatened by municipal broadband since city-owned utilities may be exempt from paying to city governments the same taxes, fees and surcharges that private corporations do. As a result, there have been cases of lobbying state legislatures to pass laws that discourage cities from developing municipal broadband or of larger ISPs trying to stop municipal broadband through the courts.
However, if cities entered into public-private partnerships with companies such as Google, it might help long-suffering municipal broadband projects get off the ground. One possible scenario would be where city councils financed the broadband construction, and then let Google run the network as an ISP. In that case, competing ISPs may find it difficult to fight city hall and Google at the same time.
That may not be Google's initial plan with its pilot project, but then again, check out this entry from part 3 of Google's request for information from municipal governments that want to be included in Google's broadband project: "Describe any current or planned programs in your community to accelerate and expand adoption and use of broadband Internet access." Sounds like that part of the questionnaire is tailor-made for describing a failed municipal broadband project, don't you think?
Connect with Ian on Twitter (@ianpaul).