At a Glance
Expert's Rating
Pros
Beautiful screen
Strong performance
Cons
Lacks extras: Touchscreen, Blu-ray, TV tuner, etc
Our Verdict
Speedy all-in-one PC runs Windows 7 and OS X, but lacks extras like multi-touch, Blu-ray, and a TV Tuner. Performance gain over previous 20-inch iMac is marginal, but the new screen is much improved.
Though Apple's high-end ($2000+) iMacs are the first all-in-one PCs with Core i5 and Core i7 processor options–not to mention big and beautiful 27-inch displays–the cheapest iMacs now all come with 3.06GHz Core 2 Duo processors. These entry-level $1200 and $1500 iMacs both feature 21.5-inch displays (and replace the 20-inch iMac from early 2009), while the 27-inch 3.06GHz iMac is now the middle ground in price at $1700. Here we look at the $1200 iMac, tested using Boot Camp and 64-bit Windows 7.
This budget iMac has a 21.5-inch LED-backlit screen, a 3.06GHz Intel Core 2 duo processor, 4GB of 1066 DDR3 SDRAM, a 500GB hard drive, a DVD writer, and nVidia GeForce 9400M graphics that shares up to 256MB of main memory. As mentioned, it's a $1200 system that replaces an early 2009 model with a 20-inch display, a 2.66GHz Core 2 Duo processor, and 2GB of memory. That older model featured the same nVidia graphics as well as the same price. (The next step up in the iMac line costs $1500, and has largely the same specs save for a 1TB hard drive and ATI Radeon HD 4670 graphics with 256MB of dedicated GDDR3 graphics memory. Another $200 gets you the same specs with a bigger 27-inch display.)
The $1200 iMac achieved a strong result of 115 in our WorldBench 6 benchmark, making it the third best all-in-one PC performer behind the Core i7 and Core i5 iMacs, which scored 128 and 123, respectively. Next best are the 24-inch Sony Vaio L117FX/B and Gateway One ZX6810-01 (both scored 105), followed by the Acer Aspire Z5610 (101). For the record, the speed improvements against the older 20-inch iMac were marginal at best: 115 versus 111 in WorldBench 6.
Display Quality
The 21.5-inch display has a native resolution of 1920-by-1080 (1080p), and a new 16:9 aspect ratio (instead of 16:10 on the older 20-inch iMac). The aluminum faceplate at the bottom of the screen is narrower than before, and the aluminum border around the screen is gone.
Switch it on, and you'll notice that the LED backlit screen is also a bit brighter, and colors are much better than on the 20-inch iMac. That's because Apple thankfully now uses 8-bit displays across the iMac line–the 6-bit dithered display used in the 20-inch iMac is gone (we hope). The display also uses in-plane switching (IPS) technology, which is supposed to help maintain image quality when viewing the screen at extreme angles. Looking at the screen from different angles, I had a difficult time noticing any color shifting. The new iMac screen maintained its color integrity, while the old 20-inch iMac screen looked like a mess.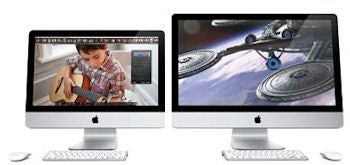 There's one major issue with the screen that, for many, is a deal-breaker: the glass on the display and its glossy effect. The gloss makes colors pop and blacks deep and rich, but you can see your reflection in the glass. When using the iMac as a desktop computer, I've learned to see past the glare and reflections, but many others can't develop such tolerance–and I'm not saying you should. Glare is a problem if you're in a group gathered around a 27-inch iMac that's being used as an HDTV. In fact, because of the glare, you might reconsider using the 27-inch iMac as a HDTV. However, it's now been two years since the first aluminum iMac with glass was introduced, and there are no signs that Apple is interested in offering a matte screen option.
Ports, Magic Mouse, Speakers, and Extras
All of the iMacs have SuperDrive DVD writers, next to which is a new SD card slot that can read SD and SDHC memory cards that are used in digital cameras. And like previous iMacs, most ports are located on the back of the iMac, on the lower-left side. You get a headphone/optical digital audio output minijack, an audio line-in/optical digital audio input minijack, four USB 2.0 ports, one FireWire 800 port, a Mini DisplayPort, and a gigabit ethernet port. If you have FireWire 400 peripherals, you'll have to supply your own FireWire 400-to-FireWire 800 adapter.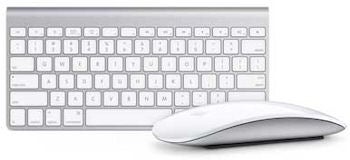 To strengthen the iMac's use as part of an entertainment center, Apple upgraded the speaker system. The new speakers are a vast improvement over previous models, producing richer sound with better bass response and louder volume. You'll still want to use external speakers to fill a room larger than 20-by-20 feet, but for bedrooms, offices, dens, and smaller living rooms, the built-in speakers have enough power.
The iMacs come standard with an iSight camera, Wi-Fi, and Bluetooth. Apple includes a new version of the Wireless Keyboard, which now uses two AA batteries instead of the three AA batteries required in its predecessor. Apple also includes the new Magic Mouse. Apple does not include its new Apple Remote; if you want one, you'll have to shell out an extra $19.
Buying Advice
Core i5/Core i7 aside, the Late 2009 iMacs are really about the new displays–and the displays are impressive. The screen in this 21.5-inch iMac is a welcome change over the 20-inch, 6-bit displays, and the IPS technology preserves the image quality at any viewing angle.
The $1200, 21.5-inch iMac is a very attractive deal, but you'll get more storage space and better graphics performance if you step up to the $1599, 21.5-inch iMac. Meanwhile, the $1700, 27-inch iMac can do double duty as part of a home entertainment center for watching videos. But if you demand the very best performance, you'll want to step up to the Core i7 or Core i5 iMacs we've reviewed previously.
One final (though major) consideration: if you can take the performance hit and don't mind slightly smaller screens, you tend to get a lot more bang for your buck with rival Windows 7 all-in-one PCs. Multitouch displays, Blu-ray drives, more USB slots, a greater variety of integrated ports (HDMI, eSATA, xD, Memory Stick), and even HDTV tuners with Windows Media Center DVR functionality. See our Best Big Screen All-in-One PCs (Over 20 Inches) chart for more.