At a Glance
Expert's Rating
Pros
Easily accessible chassis with room for upgrades
Superior performance for a small(ish) system
Cons
Dull keyboard and mouse
Bigger Value PCs deliver more speed for less
Our Verdict
HP delivers a system that's unquestionably speedy for its small(ish) size, but they've left out details that could have brought it closer to the top.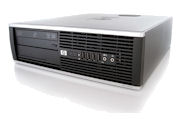 HP's Compaq 6005 Pro Small Form Factor PC–yes, that's its full name–is about as big a compact system as its name is long. This system's relatively plain, all-black enclosure reflects the simplicity of its components and feature list. You aren't getting a lot of whiz-bang computing with the 6005 save for its processing speed. But at that, the 6005 delivers one of the better price-for-performance trade-offs on the Value PCs chart. Its $899 cost (as of February 1, 2010) might seem to be a lot for a system that isn't wrapped in a standard minitower case, but the 6005 plays within the realm of the category's top systems in performance, before the rest of its specs get left in the dust.
All this magic happens as a result of the 6005's mighty brain, a 3.0GHz AMD Phenom II X4 B95 processor that calls on an included 4GB of DDR3 memory. It's a potent combination that isn't actually the top dog in the Value PC category, but it doesn't have to be. With a tested WorldBench 6 score of 128, this system beats out all other compact systems on the Value PCs chart and does a great job of delivering better general performance than most comparatively priced (or higher) value desktops. The sole exception is Micro Express's MicroFlex 75B, a minitower system that delivers a score of 132 for a $700 cost. It is this machine that will forever be the thorn in the 6005's side.
Graphically speaking, the 6005 can't deliver playable frame rates in PCWorld's Unreal Tournament benchmark on any resolution using the test's typical high-quality settings. The MicroFlex 75B, on the other hand, spits out 82 frames per second on the highest tested resolution of 2560 by 1200–one of the better scores on the Value PCs chart to date.
As the 6005 is primarily designed for speed, it supports only an adequate number of external connections. The system's rear is home to six USB slots, one gigabit ethernet port, one DisplayPort connection, and a VGA output. Four USB ports grace the system's front, making its sole DisplayPort connector the only advanced element on the entire rig. (In contrast, the MicroFlex 75B's smorgasbord of connection offerings blows the 6005 out of the water with a huge, satisfying splash.)
The 6005's chassis is ho-hum for its monochromatic look, but it does easily open up to reveal a packed interior. There are no additional free drive bays beyond what's already taken up by the system's included DVD burner, 84GB solid-state boot drive, and 300GB storage drive. For what it's worth, this storage capacity does beat the MicroFlex 75B's paltry 150GB capacity. As for upgrading, you can fit an additional PCI and PCI x16 card, and two PCI x1 cards, into the 6005's interior–you might want to opt for a video card, instead, but that's just my vote.
The included keyboard and mouse are basic, generic, and not even wireless (which would have been nice in a system that could sit well on a shelf or entertainment center). That said, the 6005 is a bit overpowered for a media center PC. Given its low variety of connections and jacked-up speeds, the 6005 Pro is more of a replacement for a standard desktop than anything else.
If size is the compelling factor for your next system purchase, then you aren't going to find a faster, "smaller" value PC than HP's Compaq 6005 Pro. However, you can achieve better performance, ample connectivity, more upgradability, and actual gaming capabilities at a lesser cost with Micro Express's MicroFlex 75B. That's a pretty tall order to pass up just because you want a system with a small profile.