At a Glance
Expert's Rating
Pros
Excellent microphone
Good audio-processing features
Clean and powerful audio
Cons
Expensive
TrueStudio Surround only sort-of works
Our Verdict
Creative's new headset isn't just for World of Warcraft players–it's one of the best gaming headsets we've ever used.

The Sound Blaster World of Warcraft Wireless Headset is not just for WoW players. Yes, it comes with a WoW-themed design and interface, but Blizzard's cardinal rule for the designers at Creative was to make it a great headset for PC gamers in general. And in that regard, Creative succeeded fantastically.
In fact, this headset may even replace my beloved Astro A40 Audio System as my PC gaming headset of choice. If you have ever used one of those, you know this is high praise indeed. With a price tag of about $160, this level of quality doesn't come cheap; even if you opt for the wired version, you'll pay $120. Regardless, if you use a headset often when playing PC games, it's worth it.
A great PC gaming headset should have excellent sound reproduction, a high-quality microphone, good sound-processing features, and a comfortable design. Creative did an excellent job on all fronts. The build quality is high, though there is a little more plastic and a bit less metal than we normally like to see. Still, the World of Warcraft headset has a solid feel and a relatively light weight for its size–a key component to wearing a headset for long gaming sessions. The closed circumaural cans feature large stereo drivers and very thick, soft pads.
I wear glasses, and I had no issues at all with wearing the headset for hours on end. They lack the "open air" design of some headphones, which means they don't breathe and they block quite a lot of outside sound (which is either good or bad, depending on your particular gaming environment). After a few hours, you'll want to take them off just to give your ears some air. The cans turn 90 degrees so that you can comfortably hang the headset around your neck.
The design is quite good, but features World of Warcraft themes quite heavily. Detachable Alliance and Horde emblems, backlit with adjustable LED lights, sit on each earpiece (the headset comes with a pair of each emblem). The PC software lets you change the color of the lights, cycle between colors, adjust or pulse brightness, or simply turn them off. Other emblems for the various WoW classes and races will be sold separately in the future. The left earpiece features nice, clicky buttons to increase or decrease volume that are easy to find without taking the headset off to look at it; the power button and microphone mute are in the same area. The mic is a flexible boom that attaches to this earpiece, and you can quickly remove it when you don't need it.
The other piece of hardware is the wireless dongle, which features a glowing blue power light and a sync button. (It's also a little longer than we expected.) I'm happy to report that the 2.4GHz wireless technology works great. I found no perceptible latency to the audio stream, and I couldn't find a way to cause interference. I even moved about 20 feet away to my kitchen and ran the microwave, along with my cell phone and wireless router, and the headset never missed a beat.
A wireless headset, when it works well, can be quite liberating. No more running over the cord with your rolling desk chair, no more pulling off your headset when you go to the fridge to grab a drink, no more cats treating your headset cords as their latest toy. (Cat owners, you know what I'm talking about.) The headset is powered by an internal lithium ion battery for which Creative claims about 8 hours of battery life. In my experience, this is pretty accurate, perhaps even conservative. You recharge the headset with a simple mini-USB plug, and you can charge it while you use it.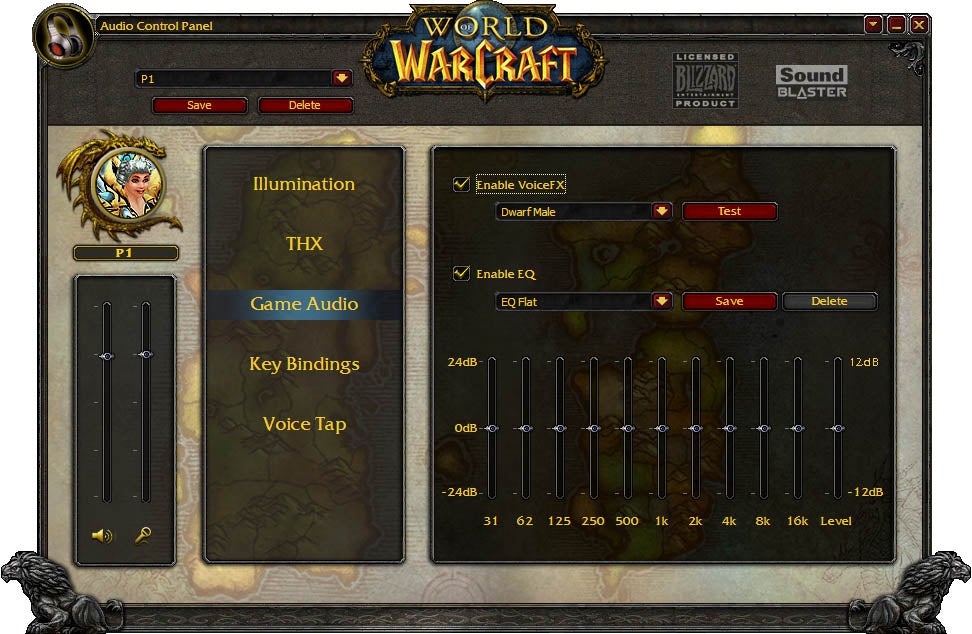 The PC software is lean and mean, with simple controls for the various audio settings and an interface design that is obviously meant to mirror the World of Warcraft interface. It includes a page to adjust the earpiece illumination, another to alter the THX TrueStudio PC sound processing settings, one for tweaking EQ and voice morphing settings, and one for setting key bindings.
A fifth page lets you bind the "Voice Tap" peripheral to whatever key binding you wish. The Voice Tap is a separate accessory, a foot pedal that you step on as your push-to-talk key for voice communication or whatever else you wish to assign it to. (It was unavailable for testing at the time of this review.) If you really like to tweak things, you'll be glad to know that you can assign keyboard hotkeys to literally anything that is adjustable in this control panel, as well as save profiles for different games or users.
Of course, all the comfort and design in the world means nothing if the headset doesn't sound great. I'm happy to report that the World of Warcraft Wireless Headset does indeed deliver fantastic sound. I tested the headset with a slew of new games, from Dirt 2 to BioShock 2 to Call of Duty: Modern Warfare 2–plus, of course, plenty of World of Warcraft. The nice, large drivers easily deliver the kind of bass you want to hear when a Big Daddy is stomping around the room in BioShock 2. Midrange and high tones are clean and crisp, but nothing is especially overpowering. The sound curve is nice and flat, and almost never distorts. If I had to sum up the sound in one word, I'd say "balanced." These headphones are as good for listening to music as they are for games, especially if you're willing to tweak the EQ a bit.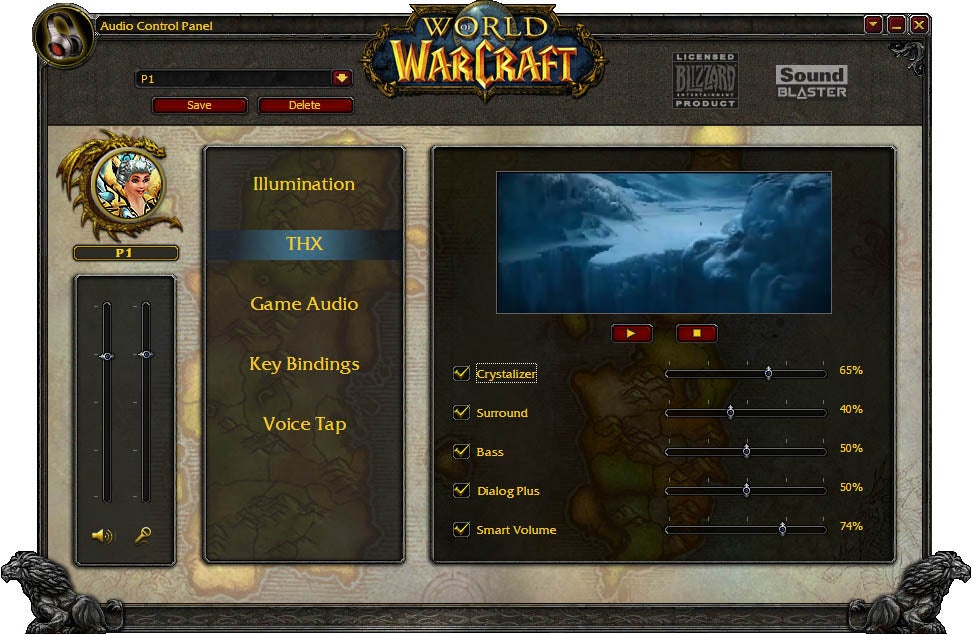 The THX TrueStudio PC sound technologies incorporated into the software are a mix of useful and distracting. Fortunately, they're all optional, and you can adjust each in strength. The Crystalizer function is intended to increase the "definition" of the sound, making things sound crisper and to bring forward some lost high-frequency sound. I found that when cranked up to 100 percent, the changes were too dramatic, but ultimately everything sounded really good with this feature left enabled at around 30 percent strength. The bass enhancement does a good job of boosting bass without the drivers ever bottoming out (you know, that horrible "buzz" you get when a driver just can't go that low); but it destroys the nice flat response curve, and the drivers already deliver all the bass you need.
Dialog Plus does indeed bring forward the dialogue in games–which is useful at low volumes–but it also distorts the midrange of music and sound effects. I left it off. Smart Volume is a sound auto-leveling feature that brings up quiet sounds and brings down the loud noises to make everything a little more "even." It's amazing the little details you can hear in some games with this setting enabled, and it can be very useful when you're chatting on Ventrilo or TeamSpeak with your gamer friends. Voices often come in at wildly different volumes, and Smart Volume can really help even them out. On the other hand, it doesn't deal well with games that have lots of persistent background music, and it destroys the dynamic range of music with lots of soft and loud parts (such as classical music). In the end, I enabled Smart Volume with a hotkey when playing a game with voice chat, adjusting the strength to 50 percent; I left it disabled the rest of the time.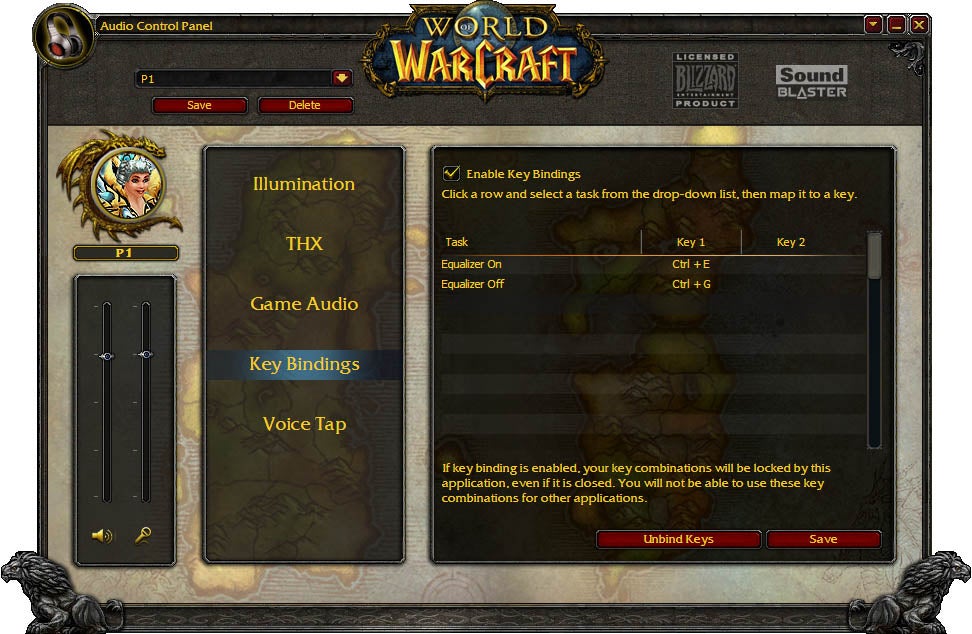 The audio-processing feature that gamers will be the most interested in is the Surround function, which is THX's answer to Dolby Headphone. It takes 3D positional audio (5.1 or 7.1) and attempts to give you the same sense of location and depth using a stereo headset that you would get with a huge set of speakers. It even tries to one-up Dolby Headphone by adding height information to make sounds seem to come from above or below you.
In my experience, Surround only sort-of works. Certainly the sound field is expanded greatly, and unlike many other faux-surround technologies it doesn't make everything simply sound like you're in an echoey bathroom. I still think Dolby Headphone does a better job of providing an obvious and accurate sense of location than THX's version does, and I didn't get a really clear sense of vertical location out of this headset. Even after fiddling with the strength of the Surround feature, I left it turned on with most games but turned off for listening to music. This is more than I can say for nearly any other faux-surround technology, though, and it still comes a very close second to a good Dolby Headphone implementation.
Lots of World of Warcraft players are on Macs, and they'll be thrilled to know that Creative's official WoW headset is fully Mac compatible, with the same configuration software and features, right out of the box. And if you really can't stand the WoW look but you still want this headset, stay tuned: We hear that Creative will eventually make a version without the WoW theme.
Until now, my favorite headset, hands-down, has been the amazingly good (and expensive) Astro A40 Audio System. These days, I'm torn. Both the A40 and Creative's WoW headset sound fantastic and have great design and features. For PC gaming, I think the lack of a cord and a separate headphone mixer makes the WoW wireless headset more convenient by far, and the excellent configuration software is a feather in Creative's cap. The A40's open-air design makes it a bit more comfortable for very long gaming sessions, and the hardware amp lets you plug in your game console for excellent "private gaming" in the living room.
Is it a toss-up, then? Well, if you plan to use your headset with a game console in addition to your PC, and you're willing to pay more, the A40 is the better option. For an exclusively PC-oriented headset, not to mention a price that's nearly $100 lower, the Sound Blaster World of Warcraft Wireless Headset is the superior choice.