Don't let a little thing like being at work get in the way of following your favorite sporting events and athletes at the Winter Olympics. From streaming video to event explanations to ski slope imagery courtesy of Google, these five handy sites will help you follow all the action.
Useful for: Video highlights/live streaming coverage of the Games. If you're in the United States, this is the only place you'll (legally) get it.
What it is: NBC has exclusive U.S. broadcast rights to the Olympics, but here's the rub: For live coverage, you must be a subscriber to a cable, satellite, or IPTV provider. Otherwise you'll only be able to access event recaps and highlights, athlete biographies, interviews, news, and other short clips.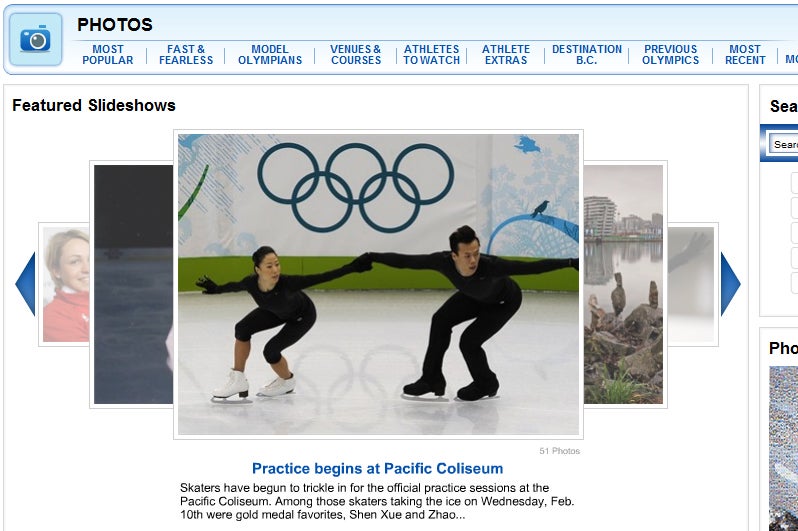 NBC is still partnered with MSN and Microsoft's Silverlight, so you'll need to have Silverlight 3 (along with the latest version of Adobe Flash Player) installed in order to view any video content on the NBC site. Don't worry, though — it's a quick and painless download. If, for some reason, NBC doesn't work out for you, you can check out our article on how to stream the Olympics from anywhere (including outside the United States).
Why you should check it out: As the exclusive broadcaster of the Olympic Games, it's the only site that will have easily accessible, high-quality streaming content. Also, for those of you following the games at work, it even features a "BOSS" button that brings up a Windows desktop (complete with spreadsheet), so you can stream under the radar.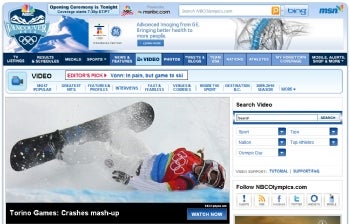 Useful for: Visuals — maps and pictures of the event venues, official courses, and slopes.
What it is: Those of you who followed the 2008 Beijing Summer Olympic games might remember Google's nifty little "Inside the Games" site, which was powered by Google Maps and featured stadium locations and pictures — a neat way to bring people closer to the games. Google has one-upped itself with the 2010 Winter Olympic Games' "Inside the Games" site, bringing Google Street Views into the mix.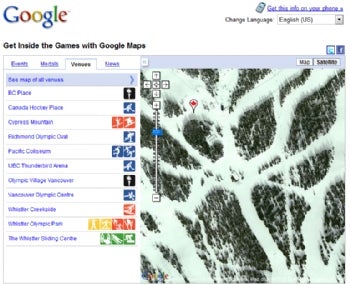 Now, in addition to venue and event locations, you can also see the ski slopes, bobsleigh courses, and luge courses in Google Street Views. Google's site also features a simple event schedule, medals chart, and news feed for the Olympics.
Why you should check it out: The Google Street views will make you feel like you're practically at the games themselves. Also, the simplicity of the event schedule and medals chart is great for people who are looking for the straight facts — and a welcome change from ad-ridden sites like NBC.
Useful for: Short, sweet updates and some lively back-and-forth discussion.
What it is: The microblogging site, which features news updates in spurts of 140 characters, is host to a bevy of Olympics-related feeds. If you're not sure whom to follow, take a look at NBC's Olympic Pulse "Tweet Sheet" (which features tweets by athletes and analysts), the New York Times' Winter Olympics Twitter list (athletes and organizations), or just check out the #Olympics hashtag search results.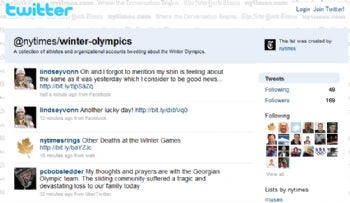 If you're looking for official updates, the International Olympics Committee has a Twitter account (@Olympics), as does Vancouver 2010 (@2010tweets). And of course, for straight coverage follow @NBCOlympicZone
Why you should check it out: Twitter lends a personal element to the games — you can follow athletes, teams (follow Team USA @USOlympic), and other fans. And if you dream of being an Olympic athlete one day, check out @OlympicHealth for tips from Olympians on diet, training, and recovery.
Useful for: Lots and lots of Olympics-related facts and information.
What it is: A ton of great features to enrich an Olympic-watching experience — all in one place. While naturally centered around news articles from the Times' staff, it also features interactive graphics (such as this one on countries that have won gold medals in past Winter Olympics games), and informative pages for each sport.
While I wouldn't recommend this site for straight results, it's a great place to learn more about the games you're watching. Each sport page features a great deal of information on the sport itself — including an explanation of the sport, its history, and how it's scored — something no other site (that I've seen so far) has managed to put together.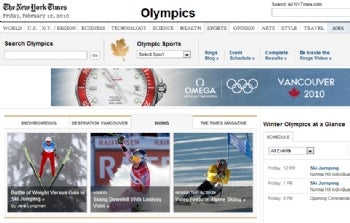 Why you should check it out: For the first time in your life, you'll be able to watch figure skating or alpine skiing and understand what you're seeing and how it's scored — and you might even discover some fun background facts to impress your friends with.
Useful for: Information on events surrounding the Games.
What it is: The official spot for all things official: art, merchandise, and ticket information. It's a great place to learn about all things surrounding the Olympics — including the 2010 Paralympic Games (which take place March 12-21) and project Canada CODE (a collaborative online project of Canadian stories, photos, and artwork). After all — to some — the Olympic Games are more about culture and less about scores and times.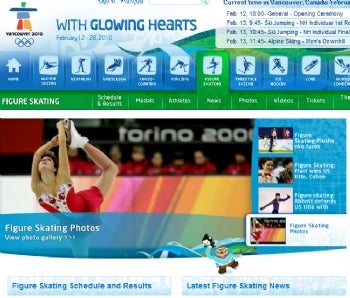 One drawback: It's not the best site for quick result info. It does have schedules, results, and up-to-date multimedia (though not streaming video), but numbers are a bit lost in the complex-but-visually-breathtaking design.
Why you should check it out: In addition to the above, Vancouver 2010 features an interactive Olympic Torch relay map, which includes clickable checkpoints of where the Olympic Torch has been. Each checkpoint has a map of the Torch route, as well as photos and stories from the event.
Websites are not your only options, of course. If you want to stay even more up-to-date on the latest Olympics news, try one of the several free iPhone apps — there's an official one, and two (including a "cheer app") from NBC.