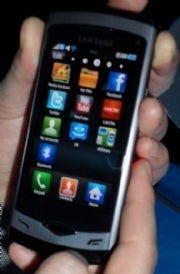 On the eve of Mobile World Congress, Samsung launched its first Bada OS phone, the Wave, in what can only be described as a splashy event.
Wall-to-wall videos of waves, blue-colored cocktails and sea creature-liked dancers almost made me forget I was at a phone launch.
Luckily, I had the opportunity to get some hands-on time with the Samsung Wave and Bada OS after the event.
Light Touch
The Wave feels great in hand: Its aluminum body feels smooth and ergonomic with curved, soft edges and a seamless design. It is also quite slim, measuring only 0.4 inches thick. It is quite light, too, though Samsung didn't disclose the Wave's weight.
The Wave also showcases Samsung's new Super AMOLED technology, which has to
uch sensors on the display itself as opposed to creating a separate layer (Samsung's old AMOLED displays had this extra layer). Super AMOLED is fantastic; my low-light photos truly don't do it any justice. Colors burst out of the display and animations appeared lively and smooth. Samsung also says that this design reflects less light and therefore handles better outdoors. Our showroom was quite dark so I couldn't really put this claim to the test.
Bada Impressions
I only got a short amount of time playing with Bada OS, but I liked what I saw. It has some features we've seen on other operating systems, like a unified inbox, integrated contacts from all of your social network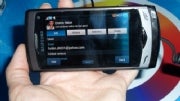 s, and a synchronized calendar. It also has a notifications system that was quite reminiscent of webOS. It isn't anything revolutionary, but at least Bada is keeping up with the competition in terms of features.
Aesthetically, the TouchWiz 3.0 user interface is quite clean and didn't feel as muddled and confusing as previous versions. It was also very responsive and quick thanks to the Wave's 1GHz processor.
From an apps perspective, Bada has some potential: It is an open platform, the UI supports Flash and Samsung already has an app store. Samsung really seems to be reaching out to developers, too. Though there weren't any content partner announcements at the event, Samsung did show a demo of EA's Need for Speed on the Wave as well as a few other popular games. I also spoke to a developer at the event who said he was initially hesitant approaching Bada, but now he's thinking otherwise.
Overall, Samsung really isn't bringing anything new to the table with Bada: Its features are really no different on what you'd find on the iPhone, webOS phones or Android phones. But suspect that is not Samsung's main focus here. Samsung sees Bada phones as being accessible to everyone, no matter what your income or tech experience may be. It is hard to predict how Bada will compete with the legions of Android phones taking over the mobile world, but phones as nicely designed as the Wave are hard to ignore.