Windows Phone 7, a dramatic upgrade of Microsoft's mobile operating system, looks fairly impressive out of the gate. In addition to a stylish user interface that's strongly influenced by the underappreciated Zune HD media player, Windows Phone 7 is tightly integrated with Redmond's Bing search engine.
(For more details on Windows Phone 7, read an in-depth review by PC World's Ginny Mies.)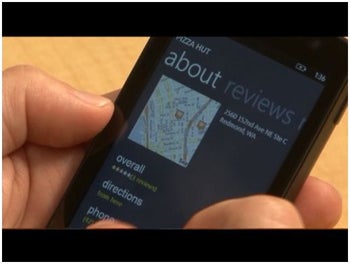 Tap the Search button on a Windows 7 device, for instance, and a Bing window appears. Microsoft says the Windows Phone interface is locked, that its hardware partners won't be allowed to replace the UI. Might those rules extend to the default search engine too? It's a given that Bing, not Google, will be the default search engine for every Windows 7 phone that ships. Users will likely have the option of digging into the settings to select another search tool (e.g., Google or Yahoo), but most won't bother.
The Bing Push
If Windows Phone 7 is a big success, Bing's market share would rise. Redmond has spent hundreds of millions of dollars to build and market Bing, which has become a very capable alternative to Google and Yahoo. Despite Microsoft's aggressive campaign, however, Bing still has a small fraction of Google's market share, albeit one that's rising slowly.
The most recent comScore data for January 2010 shows Google leading the U.S. search market with a 65.4 percent share, down 0.3 percent from December. Bing, by comparison, garnered 11.3 percent of the U.S. market in January, a 0.6 rise from the previous month. (Yahoo Search had 17 percent of U.S. searches last month, a slightly drop from December.)
Android vs. Windows Phone
Mobile devices are the latest battleground in the search wars, and a revitalized Windows Phone 7 would make for a more bruising fight. Google, of course, is gaining mobile market share too. Its Android OS is slated to debut on dozens of mobile devices this year, all of which will have tight hooks into Google Search.
As for Apple's iPhone, rumors persist that Bing may soon become the device's default search engine. Cupertino's relationship with Google continues to sour, particularly in light of Google's Android push and its iPhone-like Nexus One handset.
A Google vs. Apple battle may be very, very good for Bing. Healthy sales of Windows 7 phones wouldn't hurt either.
Contact Jeff Bertolucci via Twitter (@jbertolucci ) or at jbertolucci.blogspot.com .