SDExplorer (née SkyDrive Explorer) isn't complex, but it's free and it's handy–greatly simplifying access to the storage on your Windows Live account. During its rather short installation, SDExplorer creates an icon within Windows Explorer (at the level you'll see when you first double-click My Computer) under Other storage. Double–clicking on this icon invokes the SDExplorer dialog which asks you for your Windows Live user name and password. Assuming you entered both correctly, you'll be taken to the root level of your Windows SkyDrive storage and from that point on, on you may treat SkyDrive as you would any other storage device on your system. You'll need to log on again only after you reboot the computer.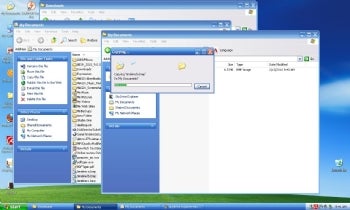 In practice SDExplorer worked quite well. I was able to cut and paste, as well as drag and drop files to and from SkyDrive as well as delete them from my SkyDrive storage. The only bug I noticed was during the drag and drop (not cut and paste) when the source window popped back to the top of the stack for some reason. Normal Windows behavior is for the destination Window and the copy dialog to remain on top.
It's worth noting that although SDExplorer matches the Windows Live look and feel–and it certainly works well with Windows Live SkyDrive–it's not actually a Microsoft product. To avoid confusion, the company recently changed the product name from SkyDrive Explorer to SDExplorer and their Web site from SkyDriveExplorer.com to CloudStorageExplorer.com.
SDExplorer is free–and if you use SkyDrive a lot, it's exceedingly useful.