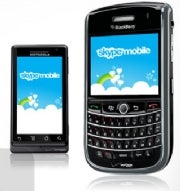 Tuesday's announcement that Verizon Wireless will allow its subscribers to make Skype calls on nine of its smartphones is a telling sign where the mobile industry is heading. If you connect the dots, the traditional wireless voice plan appears to be an endangered species. Its demise may not arrive overnight, or even in a couple of years, but its days are numbered.
At first glance, it might appear that Skype, an inexpensive VoIP phone service that operates over data networks, would eliminate the need for a Verizon voice plan. It won't work that way, however, as Skype calls will be routed over Verizon's voice network. And even if Skype didn't use the carrier's voice network, Verizon might very well still require its smartphone customers to buy a voice plan. After all, wireless providers still get a sizable chunk of their revenue from voice services. That may change soon, however.
LTE: The Game-Changer
The implementation LTE (Long Term Evolution), or 4G, mobile networks, in addition to ongoing standardization efforts to deliver voice over LTE, may change the traditional voice-and-data plan choice for smartphone users. But don't expect a change overnight.
"We'll eventually get there, but I don't believe we'll see the demise of the traditional voice plans that we've had for a long time," says Francis Sideco, a wireless communications analyst for iSuppli.
For handsets, data-only plans are a few years off, says Sideco. The dismantling of mobile voice networks wouldn't necessarily mean the end of today's per-minute (or unlimited) voice plans.
Technically speaking, there's no reason why a wireless carrier couldn't charge on a per-minute basis on an LTE network. "Skype now charges you on a per-minute basis, and they're fully voice over IP," Sideco points out.
The iPad's Impact
The arrival of mobile devices that aren't smartphones, including the iPad and similar tablets, will make data-only wireless plans more common.
"Once Verizon's first LTE sites are up, there's no reason why a device such as an iPad or some other tablet couldn't implement voice with Skype on there," says Sideco.
In that scenario, wireless subscribers with data-only plans could potentially make audio or video calls via Skype, for instance.
Depending on how things play out, your wireless plan in a few years may look very different than it does today. Whether it's any cheaper remains to be seen.
Contact Jeff Bertolucci via Twitter (@jbertolucci) or at jbertolucci.blogspot.com.