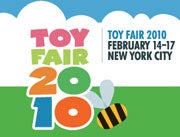 The American International Toy Fair (Feb. 14-17) is one of the largest toy industry trade shows in the world! Toy companies from around the globe gather at NYC's enormous Javits Center to show off their new products and give big kids like me an excuse to play with toys! With an increasing number of products integrating electronic, robotic, and online elements, this year's Toy Fair was a veritable playground for this GeekTecher. Now that it's over, let me share with you this year's geekiest toys.
Star Wars Force Trainer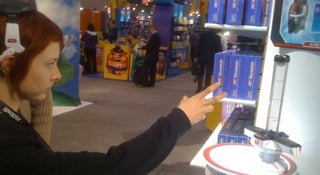 Any Star Wars nerd's dream come true! The wireless headset has sensors that reads your brainwaves and performs an algorithm to determine the differences between Alpha, Beta, Gamma, and Delta waves. The harder you concentrate, producing greater Beta waves, the higher a fan lifts a ball (no, unfortunately you don't actually levitate objects). I am proud to say that while my two predecessors weren't able to lift the ball at all, the Force was strong with this one and I got the ball to the very top on my first try.
Rubik's 30 th Anniversary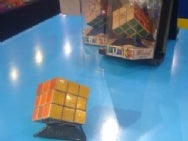 With 2010 marking the 30th anniversary of the original Rubik's Cube, there were a slew of new product offerings from the Rubiks' front. For starters, I got the chance to solve an honest-to-goodness wooden Rubik's Cube over at the Winning Moves booth- the company responsible for releasing original production styled board game classics such as Risk. The new Rubik's Slide holds promise as well. It is a different animal altogether from the classic cube that offers much quicker puzzles with a range of difficulties- definitely worth checking out if you're into handheld puzzle games.
Lego Universe MMOG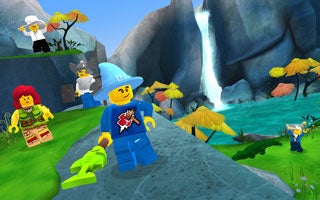 The Lego rep took me inside the walled-off, invite-only Lego booth to show me their new products. Not exactly sure why their booth was so uber-exclusive but I'm glad I was given the opportunity to check in. The new Lego board games in which you build the boards yourself looked super fun, but the highlight of the booth was definitely the new Lego Universe MMOG (massively multiplayer online game) that made it's debut at CES last month.
The game may be geared towards kids, but I can see a lot of grown-ups either new to MMOGs or just looking for a more casual game getting into this. Of course you can create your own Lego-looking avatar and the gameplay relies heavily upon creative in-game brick building. The online beta signups are now open.
USB NES Controller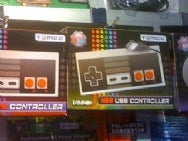 Hyperkin might not be a name you recognize, but as far as geeky videogame peripherals go, these guys are aces. Even though their FC3Plus console was pretty neat (a slimmed down NES, SNES, Genesis all-in-one console) their coolest offering was definitely the USB NES controller. I've seen homemade mods like this before but never as a packaged product, so you don't have to sacrifice a true NES controller. There was also a USB SNES version for you 16-bit emulation nerds.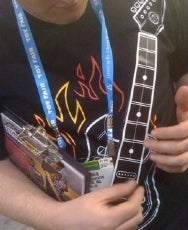 ThinkGeek Guitar Shirt
The T-Shirt you can play! Press down on the fretboard and strum with the included pick to produce some mean sounding power chords via the included portable amp. A few Ozzy covers might be fun for a little while, but I can imagine this could get slightly annoying…
HexBugs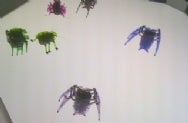 Tiny, autonomous, robotic insects! There was something oddly mesmerizing, though vaguely creepy about seeing a little, plastic crab scurry when the lights turned on or when someone made a sound. Though it's much more sanitary than a cockroach, that is essentially what is being sold here. And yet I got a burst of geeky joy seeing the infinitesimal, virtually indestructible Nano bugs right themselves when flipped. What can I say? I'm a sucker for robots, no matter how small.
Follow Mike Keller and GeekTech on Twitter!