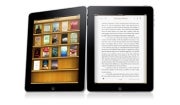 The $10 bestseller e-book might not be dead yet: Apple reportedly can sell e-books on the iPad for the same prices Amazon once offered.
The New York Times reports that Apple worked a provision into its agreement with publishers, requiring them to occasionally sell bestselling books at a discount, possibly as low as $10 per book.
A few weeks ago, book publisher Macmillan told Amazon that it wanted out of its existing business model, in which Amazon buys books wholesale and is free to discount them as it pleases for Kindle users. Instead, Macmillan prefers an "agency model," allowing publishers to set firm prices on digital books and giving a cut of revenue to retailers. Amazon ultimately caved and said Macmillan would have its way. Several other publishers followed, striking a critical blow to Amazon's $10 bestsellers.
Apple might've given publishers the confidence to make those moves, as it's letting them set their own e-book prices on the upcoming iPad, resulting in $13 to $15 bestsellers. Now, it appears that Apple will have more control than previously thought, according to three anonymous sources speaking to the Times.
As soon as a book hits the New York Times bestseller list, Apple has the option to slash prices. Apple may also be able to discount books that aren't on the bestseller list when publishers are selling hard cover editions for less than the usual $26.
So I'm wondering, did Amazon work out a similar arrangement with publishers under the agency model? And if not, will publishers voluntarily sell Kindle books at a discount to coincide with the iPad?
The answer depends on whether publishers think higher prices will look better to their bottom lines, but I'm guessing that Amazon's losing out here. The retailer that once had the upper hand on e-book pricing could suddenly be at a disadvantage against the iPad.