Microsoft and Yahoo, I now pronounce you husband and wife.
Yes, my fellow witnesses, the moment has arrived; the on-again, off-again courtship that dragged out for approximately 7,432 years has finally reached its climax.
Microsoft and Yahoo announced on Thursday they'd gotten the go-ahead to complete their long-discussed search partnership. Both the U.S. Department of Justice and the European Commission have signed off on the deal, they say, and the holy matrimony has all but begun.
So after what seemed like an eternity of Ross-and-Rachel-like "will they/won't they" agony, the two search engines are ready to tie the knot. While I collect myself and try to regain composure (these romance stories really get to me), let's take a look at what the Microsoft-Yahoo search alliance is all about and what it means for you.
What is the Microsoft-Yahoo search deal?
In a nutshell, Microsoft and Yahoo decided to combine their search engine efforts in order to share resources and become more viable market competitors. The companies reached the deal last July after about a year and a half of discussions and more than a few harsh words.
For a good picture of the talks' many ups and downs, check out this visual timeline by the Financial Times.
Will Yahoo or Bing cease to exist?
Nope — the effects of the Microsoft-Yahoo search deal are primarily behind the scenes. Odds are, you won't even notice the change.
OK, so what will be different?
You practically need a hype-free translation machine to cut through the companies' PR-laden explanation, but here's the simple breakdown: Microsoft will power all the search technology on both Bing and Yahoo. Each site will continue to operate under its own identity; the search-powering switch will be purely under the hood. Yahoo will even be able to maintain its punctuationally challenged "Y!ou and Yahoo!" campaign if it wants.
In exchange for Microsoft's search, Yahoo will handle the advertising — some of it, anyway. The purple people will head up premium search ad sales for both sites. Microsoft will continue to run its own self-serve advertising and display advertising divisions.
So will I see the same thing when I search at Yahoo and search at Bing?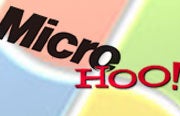 More or less, aside from the differences in branding and design. Yahoo will still provide its own original content around the search results — "rich Yahoo content," the company says, such as enhanced listings and topically relevant tools — but when it comes to the actual search results themselves, you'll be getting essentially the same thing at both sites.
When will these changes take place?
The transition is expected to begin within a matter of days, but it'll be a while before everything's wrapped up. Microsoft and Yahoo anticipate having the search part of the switcheroo locked down by the end of 2010. The advertising adjustments are slated to be finished by early 2012.
How about privacy — will both companies now have access to my info?
Microsoft and Yahoo have yet to release any specifics about policies, but their original announcement promised user privacy would be protected. The companies say they'll limit data-sharing to "the minimum [amount] necessary to operate and improve the combined search platform."
Will Hotmail, Yahoo Mail, and other Web services be combined?
Negatory. The agreement pertains only to search; all other Microsoft and Yahoo Web products will remain independent and continue to operate normally. (Except for GeoCities. It's still dead.)
What will this mean for Google?
The actual effect the Microsoft-Yahoo partnership could have on the search market is anyone's guess. Certainly, Google is in the companies' sights: Microsoft CEO Steve Ballmer previously described the move as a way to provide "real consumer choice in a market currently dominated by a single company."
But could it have any real impact? Many have expressed their doubts. Some analysts, though, point out that if Microsoft and Yahoo stand any chance of chipping away at Google's stronghold, this is probably it.
"Separately, they have small fractions of Google's viewership, but together, with a well executed plan and solid cooperation, they have a shot of at least giving Google a run for its money," Gabriel Consulting Group analyst Dan Olds told Computerworld.
Will Bing have to commission a new jingle now?
Good grief — after that last one, let's hope not. Unless it's a heartfelt ballad sung to the tune of "Yesterday." Then, I think it might be all right.
JR Raphael is a PCWorld contributing editor and the co-founder of eSarcasm. He's on Facebook: facebook.com/The.JR.Raphael