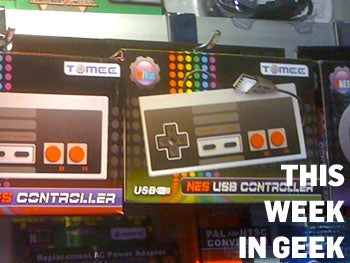 What do you get when you combine Macworld Expo with Fashion Week with Mobile World Congress with the American International Toy Fair? You get the last week (or so) of GeekTech stories. Here's what made news this week.
Our Mike Keller spent some time at the 2010 American International Toy Fair, scoping out the geekiest toys and games he could find. A Lego MMOG (massively multiplayer online game)? A USB controller modeled after the original NES controllers? Yes, please! Read on…
This year's Mobile World Congress show just wrapped up, and with it came a flood of smartphone news. What better time to dream up the smartphone of the future? David Ayala looked at various new technologies under development, and some design concepts, to come up with his vision of what's to come. Read on…
GeekTech won't contend with glossy fashion magazines anytime soon, but with Fashion Week taking place in New York on February 11-16, we couldn't pass up the chance to see where technology could take fashion in the not-too-distant future. Some of it is practical, some of it isn't: Joey Samaniego explores the possibilities. Read on…
Macworld Expo wrapped up on Saturday, and despite Apple's absence and a smaller show floor, there was still plenty to see. I took a look at a few standout gadgets and applications on-display. Read on…
Note: When you purchase something after clicking links in our articles, we may earn a small commission. Read our affiliate link policy for more details.