At a Glance
Expert's Rating
Pros
Blu-ray drive complements 1080p display
Above-average (and advanced) external connections
Cons
Poor display quality with rare, discernable flaws
Our Verdict
MSI's well-connected Wind Top AE2220 offers a TV tuner and Blu-Ray playback, in addition to advanced connections we don't often see in the All-in-One category.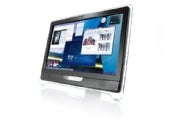 We've taken manufacturers to task for offering limited upgrades between their cycles of all-in-one desktops, and MSI almost escapes a talking-to with its Wind Top AE2220. This 21.6-inch successor to the MSI Wind Top AE2010 comes in at a total price of $949. That's $300 more than the AE2010, but it's money well-spent: the AE2220 is faster, larger, and more feature-packed in nearly every recordable category. But this is an all-in-one system, and the display is a critical part of the equation. It's the one place where the AE2220 actually performs worse than its older sibling.
MSI gives AMD the big heave-ho on the AE2220, opting instead to use a 2.2GHz Intel Core 2 Duo T6600 processor as the heart of its black-and-clear-paneled touchscreen PC. The same 4GB of DDR2 memory sit in this new (and equally non-upgradable) system. It's nice to see MSI upping storage capacity to a total of 500GB (from the AE2010's 320GB). A switch to a terabyte would have been even better, but we're not complaining yet.
The new component combination helps the AE2220 deliver a general performance boost of 50 percent over the AE2010 on our WorldBench 6 suite of tests. The AE2220's score of 90 isn't the category's best–that honor belongs to the 101 of Acer's Aspire Z5610–but it's still an excellent show of force for the system's reasonable price compared to the other all-in-one desktops. Neither the AE2220 nor the AE2010 are strong in the gaming department: The former achieved only 9.7 frames per second on PC World's Unreal Tournament 3 gaming benchmark (2560-by-2100 resolution, high quality), and the latter wouldn't run the test at all.
The AE2220's case isn't particularly pretty, but the components it conceals are a wonderful delight. You'll find a Blu-ray drive on the side of the system alongside two USB ports and a multiformat card reader. Given that the AE2010 is limited to DVD playback only, this is an excellent and powerful upgrade that finally bridges high-definition media with this system's 1920-by-1080 display–which, in itself, is a step up from the AE2010's 1600-by-900, 20-inch panel. The rear of the AE2220 houses four USB ports, one HDMI port, an eSATA port, gigabit ethernet (and included wireless-N connectivity), an SPDIF output, a VGA output, and a coaxial connection for the integrated TV tuner.
These are all great and wonderful elements compared with the AE2010, if not the rest of the all-in-one category as a whole. However, the AE2220's display is a discernable step back. While the screen is now multitouch capable, the picture quality itself is rather crummy: The saturation leaves images and movies looking lifeless, and the dark and muddy contrasts of the display do little to evoke minor details in what you're looking at. And half the time, you're looking at yourself; the system's glare, while not the worst we've seen, can be an unpleasant distraction during darker scenes. The display also suffers from noticeable banding–small, multicolored bars in place of where smooth gradients of a particular shade of color should be. That's both a rarity and a problem, neither of which signify good things for the AE2220's screen quality.
Both the included mice and the keyboard are as generic as they come, offering no additional buttons for doing anything fun or interesting with your system. The devices are wireless, which is a nice, if unexpected, touch for an all-in-one system.
Awesome performance, awesome price, awesome connectivity, a freakin' Blu-ray drive–these are all elements that suggest MSI did some serious thinking when revamping its boring ol' AE2010 all-in-one for a next-generation kind of lifestyle. And then the company had to go and muck things up by slapping an inferior display in this otherwise amazing system. If you're still won over by the AE2220's impressive specifications, you owe it to yourself to actually look at a working version of this PC–you might not like what you see.