At a Glance
Expert's Rating
Pros
Impressive quad-core performance for an AIO
Beautiful display
Cons
Performance virtually identical to predecessor
No included hi-definition support
Our Verdict
Despite a roomier hard-drive and a few extra cores, the Z5600-U1352 does little to stand apart from Acer's preexisting Aspire Z5610 all-in-one.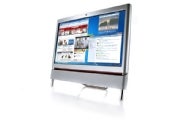 When we last left the Acer Aspire Z5610, this all-in-one system was suffering from the dreaded "really good-but-not-great" designation. General speeds were excellent, but the system's other omissions–including a less-than-appealing 320GB of storage and no upgrading–added some scuffs to what would otherwise have been a picture-perfect desktop device. Acer's Aspire Z5600-U1352 ($999, as of February 22, 2010) is in many ways a successor to the Z5610. But just how far does this system go to fix the minor problems of its predecessor?
Although its 2.33GHz processor is clocked at a lower frequency than the Z5610's 2.66GHz Intel dual-core E530, Acer has jumped into quad-core territory with the Z5600's Intel Core 2 Quad Q8200S CPU. The same 4GB of DDR3 memory permeate both systems. It's also great to see the Z5600 fix one of our chief criticisms of the Z5610–storage capacity–with the inclusion of a terabyte hard drive.
The Z5600 hits a score of 98 on PCWorld's WorldBench 6 testing suite. That's mere points away from the Z5610's score of 101, making the two systems virtually identical in general performance. For comparison, the Sony Vaio L117FX/B scored 105, while the Apple iMac 27-inch Core i7 and Apple iMac 27-inch Core i5 scored 128 and 123, respectively. These models all cost close to twice as much as the Z5600, however.
Neither Acer system supports next-generation gaming very well–the Z5610's integrated ATI Radeon HD 4570 graphics wouldn't even run PC World's Unreal Tournament 3 benchmark at its standard setting of 2560-by-2100 resolution, high quality. The Z5600 and its integrated Intel GMA X4500HD setup squeaks out a whopping 4.6 frames-per-second on this benchmark. When you dial back the systems' resolutions, however, the Z5610 emerges as the superior platform.
Part of the Z5610's strength came from its stellar touchscreen display. The Z5600's 23-inch display matches the beautiful look of its predecessor with strong saturation, which gives images and movies an excellent, lifelike representation. The beauty's also in the details: This system's contrasts do much to highlight bits of scenes that would otherwise be obscured or muddled in a less impressive display.
You won't find this kind of detail on the system's external connections, as Acer continues to deliver the same ho-hum loadout on the Z5600 as what's found on the Z5610. The system's rear hosts four USB ports, a gigabit ethernet port (and included wireless-N connectivity), an eSATA port, and integrated 5.1 surround sound. Only two USB ports and a single multiformat card reader can be found on the Z5610's side. Where are the next-generation display connectors? Where are the optical inputs for improved integration into an entertainment setup? These are all questions Acer should have asked itself between desktop revisions.
The Z5600 is more of a minor revision–a selection of a radio box or two on a Web form–than a completely new experience. Mouse? Same. Keyboard? Same. They're good devices, wireless and full of extra functions (for the keyboard, at least), but no different than what was seen on the Z5610.
Input devices are just a few of the many improvements Acer could have made between its Z5600 and Z5610 all-in-ones. The Z5600's chief selling points are its quad-core processor and increased capacity. That's it. The former doesn't make a bit of difference on the general benchmarks (unless you're nitpicking its minor decrease), and the latter is a great upgrade for the $100 price difference between the two systems. But, really, that's it. The Z5600 is a little more "really good," but it would be nice to see Acer take a few additional steps toward all-in-one greatness.