The United Nations on Tuesday issued a report on the urgent need for developing countries to prepare for the proper disposal of electronic waste. Developing countries like China and India, as well as Africa and parts of Latin America are about to see an enormous spike in the sales of electronic gadgets in the next ten years.
But many developing countries lack the facilities to deal with electronic waste, meaning there is a potential of "hazardous e-waste mountains with serious consequences for the environment and public health," according to the UN.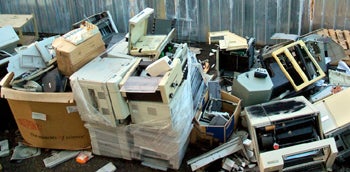 The UN says global e-waste is growing by about 40 million tons every year, and some countries will see a 500 percent increase in e-waste by 2020. With so many discarded gadgets and devices already in landfills across the world, you may be wondering what you can do to get rid of your old computer monitors or that flip phone sitting in your desk drawer.
Here are five ways you can recycle your old gadgets, with providers that explicitly state that their recycling programs ensure that the hazardous materials from your stuff won't end up in landfills at home or abroad.
Best Buy
All Best Buy stores nationwide will take your unused computers, televisions, cell phones, and more. You can bring in two items per day, and the big box store says its recycling partners are held to the highest standards so that your old gadgets will not end up in landfills or foreign countries. Best Buy does not accept computer hard drives or anything containing Freon, such as air conditioners or mini-refrigerators. Best Buy will also pick-up particularly large items like appliances or console televisions from your home for a nominal fee. Visit your local Best Buy store to schedule a pick-up and for pricing.
E-Stewards
E-Stewards.org is a Web site run by the Basel Action Network (BAN), a non-profit organization dedicated to fighting the exportation and dumping of electronic waste onto the shores and landfills of the world's poorer nations. The E-Steward site lists all local and mail-in recyclers in North America that have signed on to the Electronics Recycler's Pledge of True Stewardship. This pledge requires e-waste recyclers to ensure all devices are recycled responsibly, and hazardous materials won't end up in developing countries.
AT&T
Any corporate-owned AT&T retail store will accept your old cell phones, PDAs, cell phone batteries, and accessories as part of the carrier's Recycle & Reuse program. AT&T supports the Cell Phones for Soldiers program, which uses the funds from recycled cell phones to buy prepaid phone cards for members of the military on active duty. If you don't live near a corporate-owned retail store, you can also send your recyclables to AT&T via regular mail. AT&T's recycling partner is ReCellular, which states on its Web site that it does not process or dump old electronics in non-OECD countries.
Wal-Mart.com
Another ReCellular partner, Wal-Mart.com has a free shipping label that allows you to send your wireless devices and accessories to be processed responsibly. You can download the shipping label here.
ReCellular
ReCellular has many major partners throughout the United States. For a complete list of this company's recycling partners and brief description of their recycling programs visit ReCellular's Website.
Connect with Ian on Twitter (@ianpaul) or on Google Buzz.