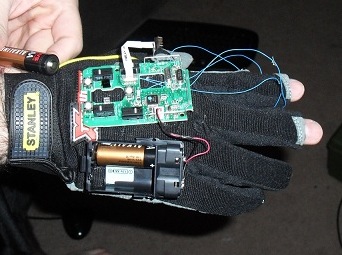 When Leland Flynn was building a faster way to control his computer, he didn't let the shape of traditional mousing devices get in his way. Flynn, an avid gamer, wanted any device he designed to not only allow "as little time as possible from the thought of an action to its input to the computer", but also to look neat. Thus was born the glove mouse.
Cannibalized from a garden variety laser cordless mouse, the glove mouse has the guts of the pointing device—circuit board, laser, battery—mounted on the outside of a work glove with the fingertips removed. Left and right click buttons are mounted near the tips of the index and middle fingers on the glove to allow both typing and mousing without removing the glove.
How about comfort and usability? Flynn asserts that "the ergonomics are currently quite comfortable," and that subsequent generations of the glove mouse will be much more comfortable than a conventional mouse, perhaps involving thinner glove material.
Recognizing that that the hand naturally rests in a mild curve, Flynn mounted the laser assembly of the mouse under the apex of the hand to provide both arch and tracking support.
Will future versions have scrolling capabilities, or have the laser sensor mounted closer to the fingers? Flynn says to stay tuned as future revisions and documentation will be available soon on his Web site. If you've built your own input device, please share it in the comments!
Update, Nov. 10, 2010: Leland dropped us a note to tell us that his site has moved–see his new site to learn more about the Glove Mouse.
[Leland Flynn via Hack A Day]