Intel announced a new initiative aimed at growing the tech job market in the United States and jumpstarting innovation and investment in the tech sector. The Invest in America Alliance is committed to investing $3.5 billion private-sector dollars in technology startups and new job creation.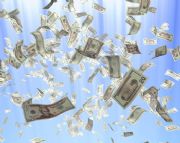 In an Intel press release, Intel CEO Paul Ottelini is credited with saying "Strong, enduring economies grow out of a culture of investment and a commitment to innovation. We simply must have a clear, consistent strategy to promote innovation, investment and start-up companies. There are things business can do, and ought to do, independent of what government achieves."
Ottelini continued "It would be a long-term mistake to let our future scientists and engineers sit idle after graduation. Today's announcements are both an investment in the country's innovators and a signal to the global marketplace about America's commitment to innovation and future competitiveness."
With those principles in mind, Intel has marshaled the support of an array of investment and venture capital firms, as well as other tech companies like Microsoft, Cisco, Google, and Dell, to help take some of the heat off of Washington DC and invest in America's future.
There are two facets to the Invest in America Alliance. First, Intel Capital–the investment arm of Intel–has joined forces with 24 other venture capital firms and committed to investing $3.5 billion in U.S.-based technology companies over the next two years.
The second aspect of jumpstarting the tech industry is related to retaining our investment in educating the youth and ensuring college graduates can capitalize on the skills and knowledge they have obtained. Intel and a veritable who's who of the technology industry have agreed hire more college graduates–many promising to double the hiring rate from previous years, adding more than 10,000 jobs to the tech market.
With the economy just starting to show signs of recovery, and many of these companies in various states of contentious rivalry, if not litigation, it's nice to see some cooperation from the private sector for the greater good. Granted, that greater good is greatly influenced by a desire for self-preservation as well.
Richard Taylor, vice president and director of Human Resources for Intel, said "Many college graduates have been among the hardest hit by the economic downturn and providing them a place in the economy today is the best way to ensure America's innovation and competitiveness tomorrow."
The confidence in the future shown by this initiative will also have a trickle-down effect. The startups receiving investment from the Invest in America Alliance, and the thousands of additional college graduates landing employment will have repercussions impacting every other area of the economy as well.
Tony Bradley is co-author of Unified Communications for Dummies . He tweets as @Tony_BradleyPCW , and can be contacted at his Facebook page .