Game publisher and digital distribution vanguard Valve just popped the lid off a radically different looking version of its Steam games client. The company says the new version includes "several major upgrades to the platform's core functionality," and that the interface has been overhauled "to enhance the way [we] already buy and play games, adding info about things that matter."
Touting access as an "opt-in beta," the company said the beta was available immediately to anyone with a Steam account.
I pulled it down and had a look.
To grab the beta, you have to have the current Steam client installed, go into 'settings', click 'change', then choose 'UI Update'. The beta client should download automatically, install itself, then restart Steam.
First thing I noticed: The Steam 'start menu' icon looks different. Same gear-crank graphic, but off-black, like it's coated in the stuff (steam, that is).
You can now dictate whether the client runs online or offline from the top menu. It's the second option, in fact. Click 'go offline' and you're prompted to 'restart in offline mode'. As usual, you have to store your access credentials locally for offline mode to function, something Valve requires to prevent multiple installs in violation of its EULA. That aside, it's nice to see a previously tucked away option foregrounded. Playing offline remains a fundamental requirement. My WLAN radio died last night. Without an offline option, my review copy of Supreme Commander 2 would have been inaccessible.
Switching back to online mode is just as easy: Click the 'steam' menu option, then 'go online' to restart the client.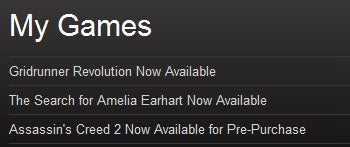 Menus and sort-by options look sleeker and better differentiated. Aside from the top menu bar with its customary small font, you now have four large font categories to choose from: Store, Library, News, and Community. The idea's the same, but the presentation feels cleaner. The only downside is that the category and menu options harbor redundancies. You can 'view' the forums off the top menu, or click the 'community' category. You can 'view games library' from the top menu, or simply tap the 'library' category. Better and less confusing, I think, if Valve would pick one location or the other.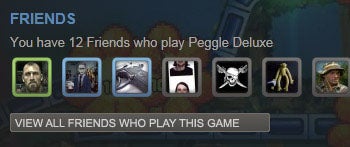 The main 'store' screen now displays a rotating advertisement, a 'spotlight' game, and a community activity graph, with the option to scroll down for additional portal views. You can sort by featured items, genres, demos, and videos, search the store courtesy a much larger and obvious input field, and monitor online friends in the lower right-hand corner.
The 'library' screen now includes full graphics for each game, the consequence being that you can only see half as many at a time without scrolling. Viewing which ones you've installed is now a drop-down menu option, along with other views like 'recently played' or 'favorites'. If you're downloading a game, it shows up in a separate 'downloads' sub-area and indicates your 'peak download rate' alongside your current speed and total pulled.
The completely overhauled 'news' area could prove the most intriguing, since it now includes dedicated channels for each game as well as "articles written directly by each game's developer or publisher, and even syndicated feeds from top computer gaming sources." It should prove intriguing indeed to see who among the latter Valve signs on to track, as opposed to those it doesn't.

Other enhancements include better achievement tracking (they appear right in your game library and on your in-game overlay now), more diverse friend tracking options (including which games your friends have bought or played recently–go viral marketing!), a new graphically enhanced 'grid view' in the games library, improved video and screenshot viewing, better organized game detail pages, and a slew of bug fixes, which you can read about here.
"We made hundreds of changes to the Steam client as a result of customer feedback on the interface, performance, and functionality," said Valve director of Steam development John Cook in the press release. "For example, we swapped out the Internet Explorer rendering engine with WebKit, which gives us a bunch of size, stability and performance benefits."
Speaking of 'performance benefits', did I mention just navigating around feels faster, too?
General impressions after tinkering for an hour or so? Impressed with the changes all around, including the new look and feel. The old Steam client was arguably utilitarian to a fault, a flat collection of functional text and drab color. The new client still deals mostly in grays (no alternate skins in the beta–yet) but adds some pizzazz in the form of slantwise line texturing and color fading to make it seem less like you've summoned up an army duffel bag and more like you're interacting with a proper interface to an online digi-verse bustling with some 25 million users and over 1,000 games.
Connect with Matt on Twitter (@game_on)