Palm Pre shoppers may get a better price soon; Palm-watchers suggest the phone will sell for $150 after a mail-in rebate from Tuesday until October 31. That's 50 bucks cheaper than the Pre's current $200 price tag. The discount will reportedly be offered by Sprint "indirect retail channels"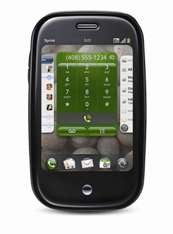 only, which means the price cut will not be available at corporate-owned Sprint Stores, Sprint.com, or from Sprint's telesales line. Instead, third-party stores like Best Buy and Radio Shack could offer the deal, according to Pre Central.
Although this is just a rumor, a Pre price cut would be a smart move considering the current mobile device landscape. Sprint recently announced it will start carrying the Android-based Pre competitor the HTC Hero beginning October 11. The Hero will be available for $180 with a two-year contract, and is being lauded as one of the best Android phones on the market — largely because of its usable and intuitive Sense UI overlay. Other devices competing against the Palm Pre include Apple's iPhone 3G, which now sells for $99, and the $200 Android-based myTouch 3G from T-Mobile.
With so many well-priced devices out there, a cheaper Pre would definitely give Palm's Web OS-based device a leg up against the competition.
If you're looking to spend even less on your next handset, other Palm device deals currently available from Sprint include the Centro for $30, Treo 755p for $100 and the Treo Pro for $200. All of these offers require a two-year contract.
According to a Sprint handset pricing guide obtained by Pre Central, Sprint is discontinuing the Blackberry Pearl 8130 and Treo 650, 700p, and 700w. If Pre Central's guide is the real thing, these four handsets will be offered for free with a two-year contract while supplies last.