Get ready to get your Monopoly on, global style: Hasbro is preparing to unveil a live version of its Monopoly game with Google Maps serving as the game board. The game, entitled Monopoly City Streets, is set to launch this Wednesday — yep, the same day as that other 09/09/09 event.
Is it just me, or is the utterance of "Google" and "monopoly" in the same sentence giving anyone else a sense of déjà vu?
The Monopoly City Streets Tour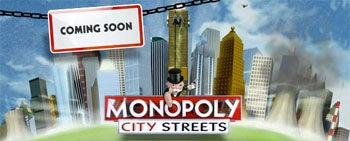 Google antitrust jokes notwithstanding, the Monopoly City Streets game is managing to build a steady buzz in the blogosphere this week. The official game Web site calls it the "biggest live game of Monopoly in history" (the title of "best employer of superlatives ever," I assume, was already taken).
"A world of property empire building on an unimaginable scale will be launched," the site proclaims. "Own any street in the world. Build humble houses, crazy castles and stupendous skyscrapers to collect rent. Use Monopoly Chance cards to sabotage your mates by building hazards on their streets."
With Google Maps as its base, Monopoly City Streets will actually turn the globe into a game board. Contrary to some media reports, however, Google itself didn't have a strong hand in building the game; rather, Hasbro's U.K.-based digital agency directed the process, using the Google Maps API, street data from OpenStreetMap, and occasional guidance from the Google team.
Playing Global Monopoly
Here's how the global Monopoly game will work: You'll start with $3 million in Monopoly dollars. You'll then be able to buy any street you can find on Google Maps, whether it's a major boulevard or a rural road. Some spots will be costlier than others: London's Downing Street, for example, is said to have a starting pricetag of $231,000, while Washington's Pennsylvania Avenue is rumored to start at $2 million. If someone else gets to your favorite street before you, you'll be able to make an offer to buy it away from them.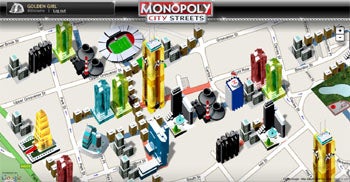 If you're feeling frugal, fear not: Once you start building, the cash will start flowing. A house will automatically earn you $50,000 in rent a day, the Daily Mail claims, while a skyscraper will pull in a cool $100 million daily. You'll reportedly have four months to do all your bidding before the game ends.
Perhaps the best news of all: Despite the soaring fake-money figures, the game itself won't cost you a dime to play.
Just don't expect free parking.
JR Raphael frequently passes Go at eSarcasm, his new geek humor site. You can keep up with him on Twitter: @jr_raphael.