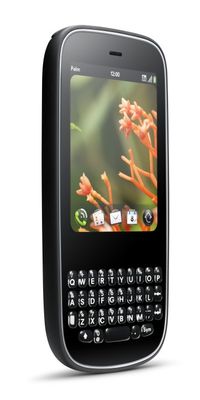 Palm unveiled the newest addition to the webOS family, the Pixi, today on its official blog. Speculation has been swirling for a few months now that Palm was readying a smaller, less expensive device. Now we know the full details. The Pixi will join its older sibling, the Pre, on the Sprint Network, but price has yet to be announced.
The carrier come as a surprise: Many bloggers speculated that the next phone would be a GSM-connected device. Along with the Pixi's announcement, Sprint.com quietly dropped the Pre's price to $150 on as well. This is after they dropped the Pre's price to $100 briefly on Tuesday–only to later redact it.
Simply based on its specs alone, the Pixi is by no means a better phone than the Pre. It is missing two crucial components: GPS and Wi-Fi. The lack of these two features indicates that the Pixi is aimed at a tweener set who probably won't use these features as much as older, more business-minded users. Given the lack of those features, the Pixi's to-be-announced price should consider the sub-$100 smartphones out there with both GPS and Wi-Fi, like the iPhone 3G and Nokia E71x (both on AT&T).
The display is smaller than the Pre's, measuring 2.6-inches–considerably smaller than the Pre's 3.1-inch screen. The Pixi's camera is only 2-megapixels, as opposed to the Pre's 3-megapixel shooter.
According to a hands-on report from Gizmodo, the Pixi is smaller and more pocketable than the Pre-which we already considered fairly pocket-friendly. The keyboard is slightly smaller, but in Gizmodo's opinion, it is easier to use than the Pre's. I will make my own conclusions later this week after I spend time with the device. I disliked the Pre's keyboard and thought it was fairly cramped as it was.
So far, Palm is being vague about the Pixi's availability. Palm only says the Pixi will be available "in time for the holidays." Palm plans on launching five limited edition artist backplates for the Pixi, which will open up plenty of room for customization. Check PC World for a full hands-on later this week and a rated review later this year.