AMD on Thursday introduced new processors and improved graphics capabilities as part of its latest laptop platform that could up the ante in its battle with rival chip maker Intel.
The platform, codenamed Tigris, includes processors belonging to the Turion II X2 and Athlon lines that deliver greater system performance while drawing less power compared to their predecessors. The platform also include a number of power enhancement and graphics features that could improve multimedia performance on laptops while improving battery life.
The Tigris platform is aimed at mainstream laptops and is AMD's first platform upgrade for such machines since it launched Puma in the middle of last year. Its biggest competitor will be Intel's Centrino platform that is found in many laptops.
Close to 10 PC makers, including Hewlett-Packard, Acer and Toshiba are expected to show laptops based on Tigris at an event to be held in Alameda, California, on Thursday.
The platform includes dual-core Turion II X2 processors running at speeds between 2.2GHz and 2.6GHz while drawing up to 35 watts of power. The chips will come with up to 2MB of L2 cache and support for DDR2 memory. The new processor lineup also includes Athlon processors running at up to 2.1GHz with 1MB of cache.
Most mainstream laptops today are based on Intel processors with integrated graphics controllers, but AMD holds a significant advantage over Intel in graphics performance, said Dan Olds, principal analyst at Gabriel Consulting Group.
For example, if consumers are looking to play graphics-intensive games or watch high-definition movies then AMD chips could have an advantage. However, the difference between Intel and AMD chips will be much more difficult to spot with everyday applications like watching online movies.
The Tigris platform has the M880 chipset with an ATI Radeon graphics core that offers faster processing capabilities to hasten up multimedia tasks. Laptops will be able to offload multimedia tasks like video decoding to the graphics core, which should free up the CPU to do other tasks.
"We are able to take things like a standard-definition DVD and use sharpening filters and color correction to make it look like it's just about 1080p high-definition ," AMD's Taylor said. The platform also has new power states that can reduce a laptop's power consumption while playing DVDs compared to earlier platforms.
AMD also holds a significant price advantage, which could pressure Intel to reduce prices on its existing processors, Olds said. That advantage could vanish when Intel releases its new generation of processors, he said. Processors used in Tigris platform are made using the 45-nanometer process, and Intel is scheduled to producing chips using the more advanced 32-nm process in the fourth quarter of this year.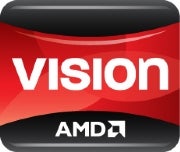 AMD is also trying to shift focus from the processor when buying PCs to laptop usage scenarios through a new campaign called Vision, Taylor said. Depending on the laptop capabilities and price, Vision systems could list capabilities like e-mail and Web browsing for the low-end laptops to high-definition playback and accelerated video decoding for the higher-end laptops.
Fewer consumers in retail are buying PCs based on processors, and purchases being driven by budget and usage scenarios, Taylor said. "They will be sitting next to an Intel platform that won't be able to say any of that," Taylor said.
The Vision branding strategy is a good attempt by AMD to draw attention away from its parts, but the plan could backfire, Gabriel Consulting's Olds said. AMD had a chip development advantage for a while, but Intel is now catching up, he said. Intel also has enough money around to turn around and deliver better metrics claimed by AMD.
"Getting attention and consideration is much more expensive for AMD than Intel. They have to make sure their claims are solid," Olds said.
Nevertheless, AMD has a good story to tell in terms of price-performance and energy savings, Olds said. Instead of shying away, AMD should take on Intel by pointing out those advantages, much like Microsoft has taken Apple with the laptop hunters campaign, he said.