The Rhapsody music service has made its way to the iPhone. An app, called Rhapsody for iPhone, that allows you to access Real Networks' music service, is now available in the App Store. Rhapsody for iPhone offers on-demand access to nearly any songs you might want for $15 per month — so is it time to put iTunes aside?
The admission of the Rhapsody app to the App Store follows the high-profile approval of the Spotify for iPhone app, an unlimited streaming music service available only in select European countries. When Apple approved Spotify, it was one of the first times the company had approved an app that offered features that could be said to duplicate those already offered on the phone. Rhapsody's service is similar to Spotify, as it offers U.S. users a hosted music catalog of 8 million tracks to listen to on-demand on their iPhone or iPod touch.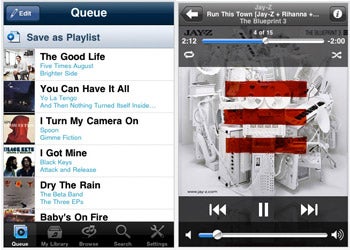 Rhapsody for iPhone is free to download from the App Store, but requires a subscription to the Rhapsody music service. (You must sign up on your computer, and then can log in on your iPhone.) It lets you search for albums, songs, and artists from Real Networks' catalog of tracks and then add them to your queue for listening. The songs are streamed to your iPhone or iPod touch via 3G or Wi-Fi, and you can also create playlists and add music titles to your library — all kept in sync with the PC-based Rhapsody counterpart.
If you always have 3G reception or a Wi-Fi connection available, then $15 per month for unlimited music streamed to your iPhone could be a good deal. You wouldn't need to go on to iTunes and download the songs you like, just queue them up on Rhapsody. As with any subscription service, you don't own the songs you are listening to, but you have the ability to listen to as many songs as you want for just $15 per month.
But iTunes on your iPhone still has an advantage: the songs you purchased are available even when you don't have 3G reception or a Wi-Fi access point. Rhapsody for iPhone does not have the capability to store songs or playlists for offline listening, so your music ends where your Internet connection does (say while on a flight). In comparison, Spotify for iPhone can store up to 3,000 songs locally, for you to enjoy whenever.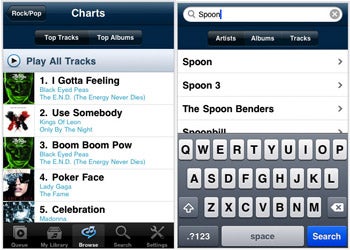 RealNetworks mentioned it is working on a version of Rhapsody that will allow you to store songs locally, but it hasn't said whether this feature will arrive any time soon. Meanwhile, the Rhapsody for iPhone app integrates with the iTunes store and has shortcuts for you to purchase the song from Apple. That's not particularly ideal, considering you are already paying $15 per month for the streaming service.
There are also a few other downsides to Rhapsody on your iPhone when compared to Apple's own iTunes. Because it is a third party app, Rhapsody's iPhone app cannot play music in the background — and this isn't likely to change, as Apple allows only a handful of its own iPhone apps to run in the background (and one of them is the music player). A landscape viewing mode is missing as well from the Rhapsody iPhone app.
However, Rhapsody for iPhone could have a bright future on the iPhone, given RealNetworks would do some changes to the app. To make it a worthy iTunes alternative, users would need to be able to store a number of songs locally, so that when they are on a plane or out of reception, they could still listen to music. A drop in price would also be welcome, although this would be difficult to achieve due to various licensing contracts with the music labels.