Facebook is taking another step toward Twitterfication with the introduction of a new "@"-based tagging system for status updates. The feature, which bears an undeniable resemblance to Twitter's "@" mention system, was announced in a company blog posting Thursday afternoon.
Facebook's Status Update Tagging
Rather than simply mentioning a friend's name in a status update, Facebook's new tagging system will let you formally link the update to his or her account. In what can't be a coincidence, the tagging is done by inserting the "@" symbol followed by the friend's name.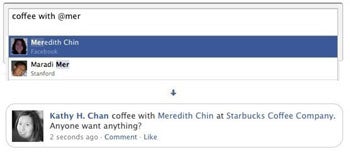 The new Facebook "@" tagging will allow you to select a friend's name from a dropdown list as you type. Once you've "@" tagged someone, that friend will receive a notification as well as a Wall posting alerting them to the message.
Facebook is rolling the "@" tagging out over the next few weeks, so it may or may not be available on your account just yet. Eventually, the company plans to extend the "@" tagging to applications as well as status updates.
Facebook's Twitterfication
The "@" tagging system is just the latest in a series of Twitter-like changes at Facebook. To be fair, Facebook is far ahead of Twitter in terms of traffic — it pulled in more than four times Twitter's number of unique visitors in July, according to metrics firms ComScore — but when it comes to development, it's frequently hard to deny who's following whom.
Since the start of summer, Facebook has dabbled in public and group-based sharing and, of course, real-time search. Some blogs have even uncovered evidence suggesting the introduction of Twitter-like one-way fans (as opposed to Facebook's current mutual friend-acceptance system) could occur before long, too.
Given Twitter's current "hot" factor, it's not difficult to see why Facebook would be attempting to emulate some of its stronger qualities. Come to think of it, with today's new development, most of Twitter's trademark features are either adopted or on the way. Throw in a 140-character limit and some frequent downtime, and Facebook may just have the entire formula in place.
JR Raphael calls things as he sees 'em at eSarcasm, his new geek humor site. He frequently exercises his "@" key on Twitter: @jr_raphael.