A false AMBER Alert concerning a 3-year-old girl abducted by a man in Stockton, Calif., spread rapidly on Twitter Thursday, but the report is a hoax. The phenomenon is a repeat of a July incident, when a similar false alert made the rounds of the micro-blogging site and also spread via cellphone text message.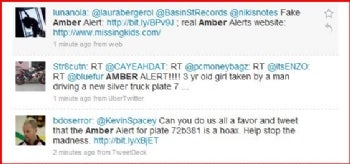 In the latest occurrence, hundreds of well-intentioned Twitter users posted a message similar to this one:
AMBER ALERT!!!! 3 yr old girl taken by a man driving a new silver truck plate 72b381 from Stockton, CA keep it going.
But according to the National Center for Missing and Exploited Children's website, there is no active alert for a missing 3-year-old girl from Stockton.
Law enforcement officials may issue an AMBER alert, which goes out to broadcasters and state transportation officials, in some child abduction cases. The alerts are then broadcast on radio and TV, and also appear on highway signs.
A similar AMBER Alert hoax occurred on July 15, 2009, according to Snopes.com. In that incident, which began spreading via text messages in the U.S. and Canada but later jumped to Twitter, a man driving a silver-colored truck abducted a 3-year-old girl. Even after denials by law enforcement officials, the hoax continued to spread.
"Even as the 'alert' jumped from cell phone to cell phone (and was additionally posted to blogs and tweeted on Twitter, the latter even by Missouri Senator Jason Crowell), police agencies in various localities were issuing denials that there had been such an abduction or that an Amber Alert for the child described had been issued," Snopes reports.
The July incident was a variation of a June 2009 missing child hoax, which had spread via email. And according to Snopes, the June hoax likely had its roots in May 2006 incident when a 3-year-old girl presumably drowned during a Memorial Day vacation with her family in Panama City, Florida.
In today's case, many Twitter users tried diligently to end the hoax by tweeting that the AMBER Alert was fake. "Can you do us all a favor and tweet that the Amber Alert for plate 72b381 is a hoax. Help stop the madness," wrote Twitter user "bdoserror."
One thing's for certain: Twitter is the ideal platform for lightning-quick propagation of rumors, hoaxes, hearsay, and idle gossip. The moral? Be skeptical of what you read there. But you already knew that…right?
Contact Jeff Bertolucci via Twitter (@jbertolucci) or at jbertolucci.blogspot.com.