In the future, everyone will have their own Jeopardy-style video walls. Or at least that's the future AMD envisions.
In addition to new notebook chipsets, AMD today introduced Eyefinity, a new technology that allows for up to six displays to be driven off of one video card.
Eyefinity will make its way into upcoming DirectX 11-based ATI Radeon graphics cards, the company has announced. With Eyefinity, you'll be able to arrange up to six displays per graphics card in any configuration, using either landscape or portrait mode.
How insane can this get, you ask? At a media event aboard the USS Hornet in Alameda, CA, AMD demonstrated 24 monitors hooked up to a single PC, driven by four Eyefinitiy-based cards. The four GPUs–each driving six 24-inch Dell LCD monitors–powered a 3D flight simulator across all 24 screens.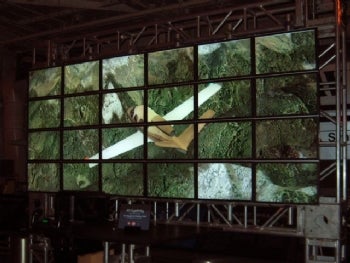 Since display bezels can be fairly thick, Samsung has worked with AMD on producing ultra-thin-bezel monitors and stands designed with Eyefinity in mind.
Eyefinity uses DisplayPort, in part due to the connector's compact size, though a spokesperson siad that HDMI and DVI-bases cards should be available. Also, Eyefinity supports a theoretical maximum resolution of 268 megapixels. AMD notes that the typical 19-inch LCD has a resolution of a bit over 1 megapixel.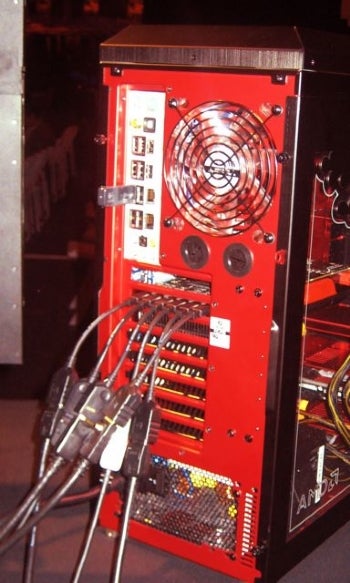 AMD didn't announce specific price-points, but did state that Eyefinity-based graphics will make it into desktops and notebooks "at very affordable prices".
The gaming uses here are self-evident; there's a ton of horsepower in these cards. But AMD also stressed that Eyefinity can be useful for general purpose computing as well, allowing multitasking to an extreme. Currently this much screen real estate doesn't seem practical–having six screens full of open windows would be information overload, and since you probably would have to sit back from the PC to take in everything, on-screen elements would be quite small. But perhaps when resolution independence takes hold (where on-screen elements can be scaled up to practically any size), this sort of work environment would make more sense.
You only need one screen to follow GeekTech on Twitter: @geektech.