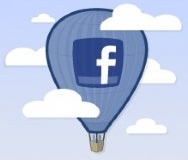 Facebook have launched a simpler, lighter version of their social networking site, only hours after announcing the addition of Twitter like '@' tagging. The Lite version is to be primarily aimed at those with slower connections.
The company first announced plans for a lighter version of their popular site only last month, with testing of the new lighter design being carried out since then.
When Facebook first announced plans to develop this lighter site, many saw the move as a response to Twitter's growing popularity, as by stripping Facebook to the bare essentials the site could then hope to compete with the functional simplicity offered by Twitter. However it was quickly established that this was not the case, and the planned new site was simply an effort to increase Facebook's accessibility to those with poor connections.
However the cut-down version of the world's most popular social network launched last night, and is currently available in both India and the U.S., with plans to expand to China, Russia, and eventually globally. Although it's fairly safe to say that the U.S. has little problems with connection speeds.
To clarify Facebook released the following statement detailing the decision to launch the Lite service in the U.S. : "We decided to roll out Facebook Lite in the U.S. to give users a simple, expedient alternative to facebook.com, and hope that it will fill this need."

Stripping away to the most commonly used functions seems to be the aim of the design, allowing users to see and post status updates, events, inbox messages, wall messages, photos and video. The lighter version has no application support, and on a whole seems like a welcomed return to the earlier days of Facebook.
Be sure to give the new Lite site a try and offer your thoughts in the comments.
Follow Geek Tech and Chris Brandrick on Twitter.