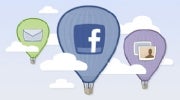 Thin is in at Facebook. It introduced an alternate front door for the social network called "Facebook Lite," a slimmed-down version of the site, optimized for those with slower Internet connections. Facebook Lite features a serious design revamp and is available only to users based in the U.S. and in India.
Facebook Lite brings a simplified, faster-loading experience in comparison to the traditional site. Part of the new Facebook Lite design, the news feed includes a simple top toolbar and buttons for posting status updates and media uploads. Facebook Lite can be accessed by visiting www.lite.facebook.com.
The profile page on Facebook Lite removes many of the bells and whistles from the traditional version and keeps only the basics: your wall, info, friends, and photos and videos. The status and sharing interface is unchanged; however, you can't view wall-to-wall posts or invite friends to an event.
The most notable omissions from the new Facebook Lite interface are the third-party applications. Only a handful of Facebook's own applications are available, so that you can get a reasonable experience from the site. Other changes include birthdays and contacts moved at the top of the feed and real-time updates at the bottom of the page.
Facebook Lite was initially available as a beta test with a limited number of users in August. It is yet unknown when or whether the Facebook Lite interface will be available to users outside the U.S. and India.
The introduction of Facebook Lite is widely seen as stab at Twitter's simple interface, which is focused more on messaging and status sharing in real time. To better compete with Twitter's surge in popularity, Facebook has already introduced real-time updates to the news feed and acquired rival FriendFeed.
In the latest move to become more Twitter-like, Facebook also introduced on Thursday status update tagging, a feature that works in a similar manner to "@" replies on Twitter. My colleague JR Raphael has more on Facebook's Twitterification here.
Follow Daniel on Twitter @danielionescu