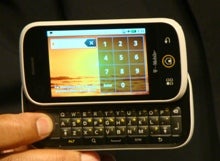 At the rate we're seeing new Android-powered devices, phone makers will have to get clever to stand out from the herd. Motorola's Cliq will try to make its mark with Motoblur, a custom interface that pulls communications from e-mail, text messages, and social networking, throwing them all onto the user's home page. But will this be enough to make the Cliq coveted by consumers and imitated by the competition? Let's look at what excites and what draws a resounding "meh."
Hot: Custom Android Interfaces
Putting aside Motoblur itself for a moment, it's fascinating to see how phone makers are to
ying with Google's Android, molding the operating system to better fit the phone's needs. Hardware still counts for something, but the user experience really takes off when the software improves.
Not: Information Overload
In theory, Motoblur sounds like a great idea. One widget for e-mail, text messages, and social networking is certainly more convenient than a smattering of individual apps, but is it too much for one app? I'm terrified of the constant barrage of inbound messages that may occur, and Phandroid reports that you can't even block out the networks you're less interested in. Look for other smartphone makers to refine this feature, not copy it.
Hot: Contact Integration
If you've got friends and family who are avid social networkers, getting all their contact information under one profile looks to be a breeze. When adding a new contact, all you have to do is click on the networks you want to include, and the Cliq automatically does the grunt work, and even tracks changes people make to their social networking accounts. This is something that all smartphones should do.
Not: It Doesn't Do Everything
There is something to be said for makin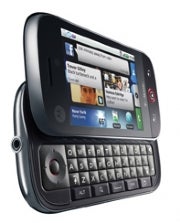 g one feature the focal point of a phone, but it's risky.
I'm afraid the Motoblur might only appeal to a niche group of people — the ones who are constantly plugged in to all forms of communication.
That's not necessarily a bad thing, but it could hold Motorola's Cliq back from being the next great smartphone.
Hot: Assisted GPS and Remote Wipe
One of my biggest iPhone frustrations is the inability to remotely track the phone or wipe out all its data, unless you're willing to pay $100 per year for a MobileMe account. It appears that the Cliq will offer this service gratis. Smartphones inevitably become storehouses for personal information, so it's nice to see Motorola including piece of mind as a feature.
Not: 2GB Bundled MicroSD Card
For the most part, the Cliq's hardware specs are solid, so why compromise on storage? You can fit the Cliq with a 32 GB MicroSD card, but the card that's included holds a meager 2 GB, hardly enough if you intend to use the Cliq as a music player. There should at least be an option to preload the phone with more storage, if only so we don't immediately have to make another purchase.
Verdict: This is certainly no review, but looking at the Cliq's features has me excited for the ideas, if not the phone itself. Even if it's not the phone for you, the Cliq does some novel things that will hopefully become a standard for Android phones and smartphones in general.