At a Glance
Expert's Rating
Pros
Slender size and plenty of ports
Fantastic keyboard and touchpad
Cons
No discrete graphics card
Our Verdict
With the T400s laptop, Lenovo heaps on features, cuts the girth, and builds a lean, mean business machine.
[Updated 9/17/2009: Restoring the test machine, we had much better luck with the SimpleTap software the second time around. This story now reflects that.]
We've already reviewed Lenovo's ThinkPad T400s laptop, a reasonably slim and powerful corporate raider. We love it, it works, and it's riding high atop our chart for the best all-purpose laptops currently kicking around. So how could Lenovo improve on that? By adding a multitouch panel. Today, Lenovo is bringing touchscreens to the T400s and to the X200; the new feature adds $250 to each machine's price, making them $1999 and $1654, respectively. The company was able to send us an early production unit so that we could check out its backlit, WXGA+, 1440-by-900-pixel LED panel.
We can't give a full review of the T400s's multitouch performance in Windows 7 for the simple reason that the drivers aren't quite final yet. So consider this a superquick guided tour of a single aspect of a laptop.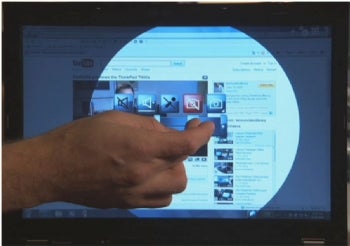 Simple Tap is the software that shows off everything. You use two fingers and tap anywhere on the screen (or just hit the big red button that camps near the top) to open a set of tiles that overlay your desktop. Said tapping will require you to hold the back of the display and touch the screen with a little more gusto, but for the most part you'll be in business. I've been assured by Lenovo spokespeople that the hinges are strong on the T400s — they are, I'm not denying that. In fact, they are great.
Several preconfigured hardware tiles provide the major shortcuts you're likely to use. Among them are icons for adjusting the screen brightness, toggling the LED "reading" light, changing volume, controlling Wi-Fi, setting the Webcam, activating hibernate, or just locking the computer. You also have the option to create your own custom shortcut tiles, whether you want to your launch your browser, say, or a specific Excel spreadsheet. And if you don't like having a grid floating over your desktop, you can arrange the tiles anywhere on your screen. Simple Tap will be available for download on October 22–gee, I wonder why.
After restoring the machine and going back through tests, I found the the gesture-based commands working more smoothly than in previous tests. Images zoomed in and out quickly. Resizing Web pages worked equally well. (Previously, I'd complained about some navigation sluggishness, but it's been resolved and working fine now.) In fact, the SimpleTap software is actually working flawlessly now (with the small exception of that whole forceful touching to call up the menu).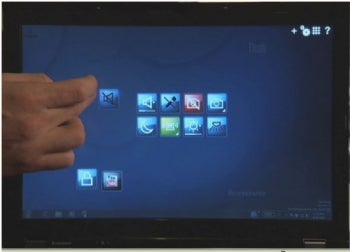 The Windows 7 drivers haven't been finalized–and Simple Tap software is in beta. I can say, however, that the screen coating looks better than I expected. Tablet PCs normally look dim and drab because of the display. Even though I doubt that the touch panel I've been testing is final, its colors seem to pop reasonably well provided that I use it at the right viewing angle.
I'm curious about how the new screen might affect battery life, too. Unfortunately, I can't give a final answer on our battery-life tests, due to time constraints in getting this story up. However, in basic use (Web surfing and typing Word documents) the machine's six-cell battery lasted about 4 hours.
In short order, you'll start to hear plenty of laptop vendors trumpeting multitouch capabilities. (Heck, stay tuned later today.) For many a laptop, I'm expecting to see touchscreens as just another drop-down configuration option at various vendor sites–sooner rather than later. Right now, though, it's the T400s's moment in the spotlight. I'll try to give a more definitive word when a final drivers of this laptop shows up at the PC World Lab.