Label me a skeptic: I just don't get how companies can make money giving stuff like this away. True, the free Easeus Todo Backup v1.1 doesn't do every single backup task: It won't schedule, overwrite previous jobs, or do incremental backups. But for anyone willing to back up and cull backups manually, this program has a lot to recommend it.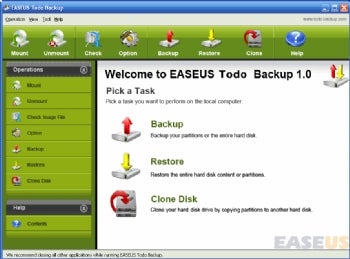 I tested Todo in a virtual machine, then under three standard installations. It didn't work in the virtual machine, but in the regular-Joe systems, the program worked perfectly. It even backed up my system partition without a squawk. Since few users image VM hard drives, I give Easeus Todo Backup a better than passing grade. My biggest complaint is that despite setting the options to not split the backup, the program split the backup into 4.2GB DVD-suitable sections anyway. Another minor complaint is that although you could interpret the help PDF as indicating support for optical media, I was unable to back up to such.
In addition to allowing a full restore, Easeus Todo Backup mounts (and un-mounts) the images it creates as virtual hard drives. This allows you to easily browse and recover individual files and folders using Windows Explorer. If that weren't enough, the program also comes with a Linux-based boot recovery CD so you can recover your system if disaster strikes. It will clone disks. i.e. copy an entire disk structure to another disk, as well.
Although Easeus Todo Backup isn't the best imaging/backup program out there, it has by far the best price–free. Macrium Reflect also comes in a free version, but doesn't mount images. Todo Backup works well and offers everything most users need. What's not to like?