Some lucky iPhone owners are reporting that multimedia messaging has started working on their iPhones. The earliest report about MMS activation came from Mediaite blogger Ash Kalb on Saturday who said select U.S. iPhone customers now have MMS support. Kalb reported MMS suddenly appeared on his phone just hours after he updated his mobile device with iPhone OS 3.1, which was released last Wednesday. AT&T had been widely criticized for not rolling out MMS when Apple introduced the feature with iPhone OS 3.0 earlier this year.
MMS, similar to regular text messaging, allows you to send messages, with pictures, video, or audio, to other wireless phones. Right now most iPhone owners wanting to send a picture, for example, have to compose and send an e-mail from their phone attaching the image.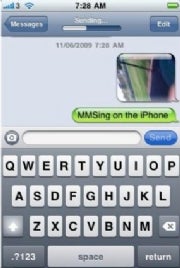 Soon after Kalb's blog entry was posted, reports began filtering in from users across the U.S. who said their phones were also MMS-ready. IPhone users who say MMS is working for them are typically running iPhone OS 3.1 with carrier file 5.0. There are claims that both jailbroken and non-jailbroken iPhone owners are seeing MMS functionality.
Earlier this month, AT&T announced MMS on the iPhone would debut on September 25. AT&T originally promised the feature would be out by the summer, but when August came and went many started wondering if MMS would be coming at all. The reason AT&T was not able to introduce MMS with the debut of iPhone OS 3.0, according to widespread speculation, was that AT&T had to manually delete an MMS opt-out code from every single iPhone account on the carrier's network. If the rumors were correct, that would explain why MMS is working early and for only a limited number of people.
It's hard to know exactly where MMS is working, as some iPhone owners living within a few miles of each other are reporting different experiences, according to this thread on Howard Forums. Users in Los Angeles, Dallas. and Chicago have claimed that MMS is good to go, and there are supposedly activations in parts of Idaho, South Florida, and California as well.
The problem is that for almost every user who says they have MMS there are one or two others in the same area to contradict that report. Several users in the Chicago area say they can't get MMS to work, and varying claims of activation come from New Jersey, New York City, and Long Island. As with any geek-related event, Twitter has also started to fill up with claims of MMS activation, with tweets filed under the hashtag #myfirstmms. One happy user even posted a shot of his iPhone's MMS settings via twitpic.
MMS allows you to send photos, video, and sound files in a similar way you'd send a text message. MMS is also a relatively common feature on even the most basic handsets. The day AT&T announced the launch date for MMS on the iPhone, the carrier released a YouTube video explaining why the feature had been delayed.