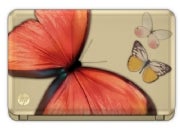 HP's latest Vivienne Tam netbook was revealed at a fashion show in New York over the weekend, sporting a butterfly design that complements Tam's spring clothing collection.
Officially dubbed the "HP Vivienne Tam Digital Clutch," it's a follow-up to Tam's red floral-patterned netbook that debuted last year. And it's obviously not for guys — except those who are totally comfortable carrying the computer equivalent of a man purse.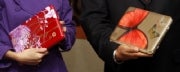 Think I'm being stereotypical? Here's a quote from Tam herself, according to Softpedia: "When women around the globe carry HP's digital clutch and wear my clothes, I want them to feel independent and free, like butterflies," she said. This is not a product for men who are insecure in their masculinity.
So, when do guys get their own designer netbook, and what would it look like? I've actually seen a few models around the Web, and none of them are inspiring: Samsung, for insta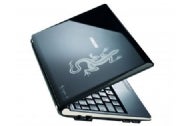 nce, sold a version of its NC10 netbook with a gecko running across the top, designed by French fashion brand Agnès b. Another design from Samsung features a deep blue floral pattern that's just a little more guy-friendly than Tam's model.
Then, there's the Acer laptop adorned with art by Japanese painter UFO-Hayashi. This netbook sold on eBay for more than $3000.
But seriously, where are the racing stripes and the flame paint jobs? Why can't we get the guys from American Chopper or Pimp My Ride to reimagine a mini-netbook for the trendy geek?
Obviously, the HP Vivienne Tam Digital Clutch is popular enough to warrant a second model, even with the first marked up to $699. When it comes to keeping one's man card from expiring, who's to say guys wouldn't pay a similar premium?